This list is updated regularly with information about releases for the Editor, add-on products, RAI, templates, and other relevant information pertaining to the Mono product suite.
January 2023
One month into 2023, we hope you have started out the year on a good note. At Mono, we have found that the year so far has been productive. We recently said hello to a few new colleagues – more about that later – and have exciting updates to share with you on Cookiebot and UX improvements.
Compliance: More customisation possibilities with Cookiebot banners
We have recently made an agreement with Cookiebot that will allow for a new set-up, where more customisation will be possible on a per-partner basis. Our engineering team will shortly start working on the development required for this solution, and we will share detailed updates and communication very soon.
If you would like to be kept up to date with Cookiebot's own news, check our the Cookiebot newsletter here.
UX improvements: Publish notification
When publishing a site, a banner appears notifying users that publishing is done. This banner has been replaced with a toast (a small banner) which is less intrusive.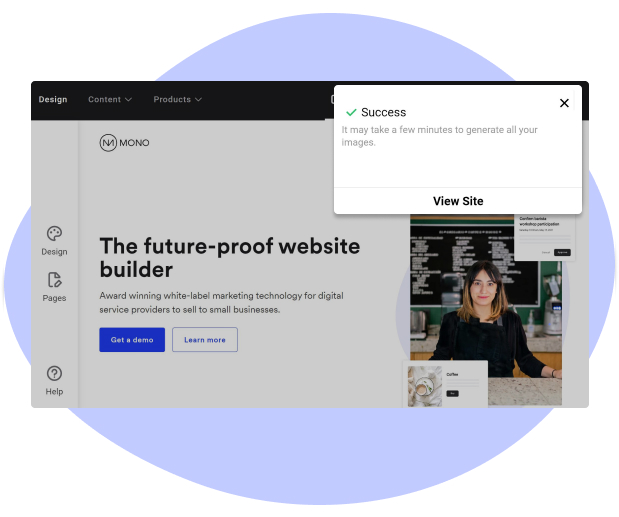 UX improvements: List module
The List Module has gone through some usability improvements. The input fields can now be extended to visualise longer texts, and it is now possible to insert a line jump inside a list. In addition, the title, text and subtext fields can now be aligned on the left, right, and center.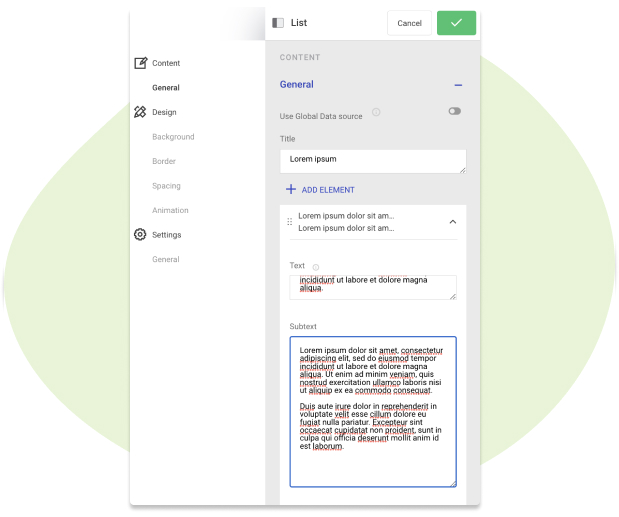 Minor improvements and bug fixes
Shopping bag module had issues loading: The Ecommerce+ shopping bag module would change size on loading. This has been fixed.

The labels on the Download module and Link module didn't show: The labels of these two modules didn't appear, but this has now been fixed.

Bosnian language and region added: You can now choose Bosnian language and region in the Editor's settings.

Unable to change between views when publishing: During the publishing process, users were not able to change between desktop, mobile and table view of their pages in the Editor. This has now been fixed.

Anchor link would jump to the wrong row: The anchor link was linking to a different row than the one it was supposed to. This has been fixed.

Ecwid search bar was not displayed correctly in the Editor: While there were no issues on the live sites, the Ecwid search bar and cart were not displayed in the Editor (Ecwid is the provider that powersMono Ecommerce+). This has now been fixed.

Page settings didn't show the correct URL for pages: On subpages, the URL displayed under page settings was not correct, as the subpage was missing in the path. This has now been fixed.
The Best Website Competition has launched
The 2023 Best Website Competition has launched. Sign up for a chance to be named the best designer using the Mono platform, and a chance to win an Amazon gift card worth 200 Euro. The submission deadline for entries to the 2023 competition is February 28th. Enter the competition.
Our first ever Partner Training!
We are also thrilled to announce that we hosted our first ever Partner Training this January!
The theme was 'Editor Basics' and the program comprised of all the fundamentals needed to work on the Mono Editor, with a special focus on shortcuts and hacks.
We touched on how you can use Global Design in the most efficient way, as well as how rows, columns and modules work. To watch or re-watch the session, find the recording here.
Another Mono Training is also in the cards. If you would like to be kept in the loop, sign up here to be notified about future trainings. We will make sure to send you the details when we know more.
Quick tip of the month
The 'quick tips category'– a place for short and highly specific tutorials which will answer your questions step-by-step - has been revived on the Mono Academy.
Make sure to check out the Product Newsletter going forward, as we will share each month's new mini tutorial with you. In the first article, we answer the question: Can you equalise columns on mobile viewport? Click here to read the answer.
November 2022
As the days become shorter and darker (at least up here in Northern Europe) more people find themselves staying inside, spending more time on their devices, and perhaps causing more traffic online. Site performance is always important but maybe now more than ever. We are excited to share with you the last big releases on our Web Vitals project.
Web vitals: Under the hood
We've been working on a few improvements that take place under the hood, invisible to users but nonetheless essential. One in particular brings quite a lot of excitement to the Mono team as it is the early steps of a complete overhaul of our image compression system.
In our efforts to improve page load speed, we've revisited and completely rewritten one of Mono Solutions' oldest technologies: the service that prepares configuration files ahead of image compression when publishing a website.
The new rewritten technology is more stable meaning you can expect a smoother website creation experience. With this change, the publishing experience in the editor has been updated to not block you from further work while the publishing is going on. Even more importantly, it brings us very close to fully supporting WebP conversion of files uploaded through the File Manager.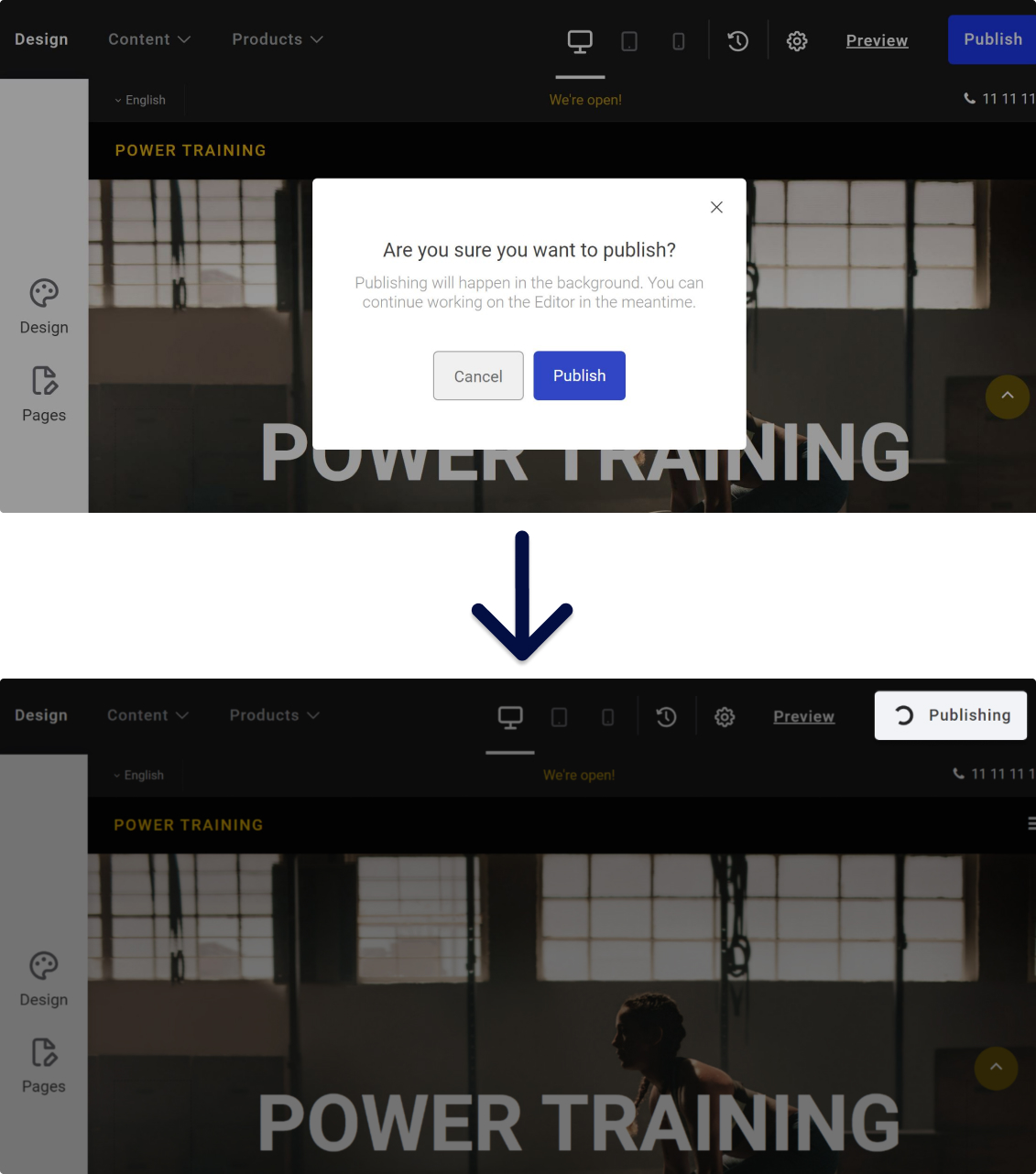 SEO improvements
This month, we have released several new updates to improve search engine optimization:
Firstly, we have added additional business categories according to schema markup. These include the generic category "Local Business" as a fallback option if nothing else has been specified, and the category "Archive Organization".
We have also added "Price Range" within the schema markup. This is used by businesses to show how much their services cost in search results.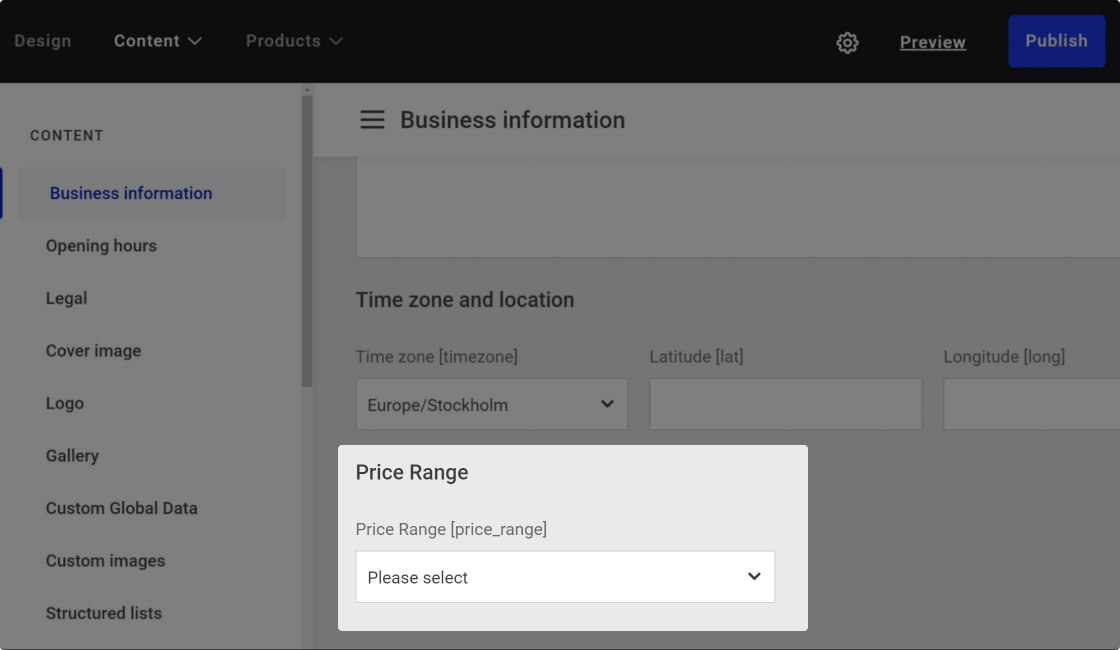 Ecwid Updates
Mono Ecommerce+ is powered by Ecwid, one of the leading e-commerce providers worldwide. They regularly provide updates on their solution. If you would like to be kept up to date, please read Ecwid's 2022 updates here.
Cookiebot updates
Mono Cookie Consent is powered by Cookiebot, the industry leading cookie consent management platform on the market. They regularly write about news on GDPR and data privacy. If you would like to be kept up to date, please consider reading their latest blog posts here.
Minor improvements and bug fixes
Site would scroll to the form if spam protection was enabled: In some instances, when hCaptcha was enabled on a form, it would cause a site to scroll down to the form on page load. This has been fixed.
Improvements to the scroll bar: The scrollbar no longer appears if the website is short enough for scrolling to be unnecessary. Additionally, the scroll bar in text modules sometimes stopped working. This has been fixed.
Issues on customer pages: A bug in Mono Customers caused difficulties with viewing the whole list of customers. This happened because it wasn't possible to navigate between pages in the customer list. This has now been fixed.
Top row settings not accessible when header is hidden: When hiding the header, the settings button of the top row also became partially hidden. This has now been fixed, so that the settings button is fully accessible.
Ecwid catalog not always visible on homepage: In some cases, when visiting a page with an Ecwid Catalog, the catalog was not displayed or fully loaded. This has been fixed.
False email link on site preview: There was a false email link in the link and download module on the site preview. This has now been fixed.
Quick Creator Beta
We are looking for Beta Testers for a feature that we are currently working on: the Quick Creator. When used to create a website, the Quick Creator takes you through a series of easy steps that make the process simpler and quicker. This means that you can set up the websites entering only the most basic information (such as information on your business, choosing a font and basis colour, etc), while leaving the bulk of the content to later stages. This is useful if you prefer to divide your workflows between design and content, for example. If you wish to become a Beta Tester for this feature, please write info@monosolutions.com and we will be happy to set it up for you.
2023 pipeline: Replacing Google Analytics with a GDPR-compliant data system
Google Analytics is currently used by Mono to collect and show data about site visitors on the Editor. However, in July 2023, Google will sunset the current version of Google Analytics (Universal Analytics) and replace it with G4 Analytics.
Due to GDPR issues related with Google Analytics, Mono has decided not to implement the new version as it is not our belief that G4 Analytics would be complying with GDPR. Instead, we will be creating our own self-hosted analytics structure to collect and display the same data.
The new system won't in any way collect PII information, and won't use unique IPs. Mono will be self-hosting, governing, and controlling the system and the data in it.Read more about our thoughts on replacing Google Analytics here.
October 2022
October has flown by, and we are excited to share with you what we have been working on this past month. Web vitals is still an area of focus for us, and we are currently working on an important step to improve site load speed by changing image formats to WebP. We also attended Siinda Live in Florence where we got the chance to see many of you face-to-face.
Web vitals: Changing the image format to WebP on publish (in progress)
We are currently working on converting images to WebP format automatically on publish, which on average would result in a 90% reduction in file size. WebP is a modern image format to support lossless compression for images on the web to make your sites faster without losing out on quality. WebP images are 26% smaller in size compared to PNGs, and 25-34% smaller than comparable JPEG images. Read more about WebP here.
This is the last big topic on our page speed improvements initiatives. However, we will be looking into other areas of web vitals in the future, such as SEO-related measures and improving security headers for increased website security.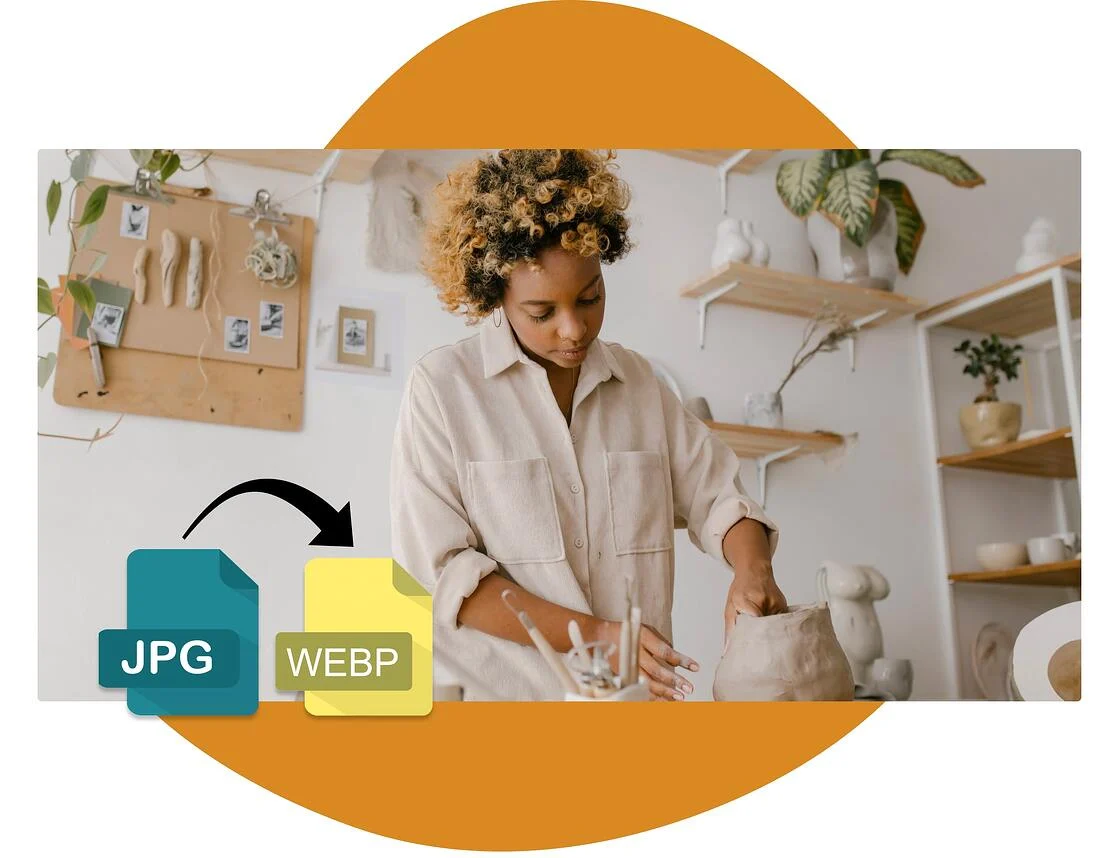 Ecwid Updates
Mono Ecommerce+ is powered by Ecwid, one of the leading e-commerce providers worldwide. They regularly provide updates on their solution. If you would like to be kept up to date, please read Ecwid's 2022 updates here.
Minor improvements and bug fixes
PDF not opening in new tab: It was not possible to open a PDF in the image list module in a new tab. This has been fixed.

Navigation submenu not fully visible on smaller screens: The navigation submenu was not fully visible on smaller screen sizes. This has now been fixed by expanding submenus into the visible area.

Dark font applied to the hCaptcha badge: From now on, "Dark body text" styling will be applied to the hCaptcha badge, to make sure it's visible against the badge's white background.
Issue with registering .dk domains: The issues with registering .dk domains have been fixed.
Alt-text changing when picture is edited: When editing a picture with alt-text added, for example by cropping it, you previously lost that alt-text on the new picture variant. This has now been adjusted so that the alt-text remains consistent.
Row anchor not working: Issues with row anchors not working have been fixed.
Alignment issues for text in the link and download modules: We have adjusted the alignment for text in the link and download modules, which reach the second line.
Edit option for PDF files removed: The option to open PDF files in the image editor has been removed as it's not possible to edit PDFs anyway and leads to the Editor freezing.
Column settings are hidden behind content on tablet: The menu options would be cut off when opening a column's Edit settings on tablet view. This has been fixed.
Global colour on shadows: Global colour did not apply to shadows. This has now been fixed.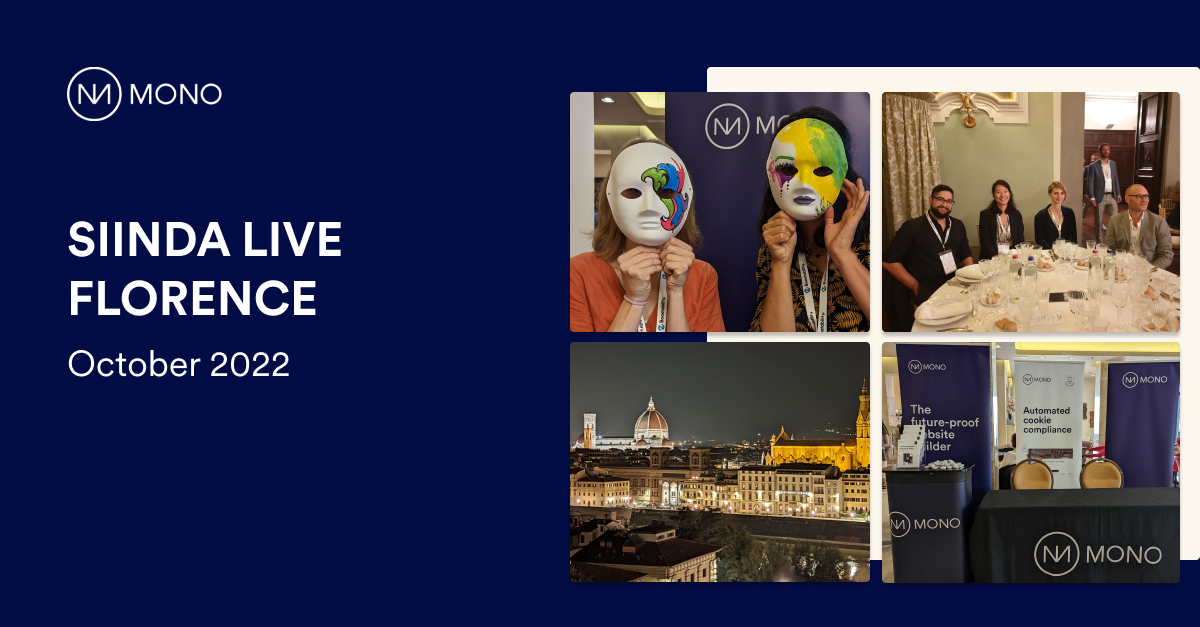 Company news: Siinda Live Florence
Mono attended the Siinda conference in Florence this October. It was wonderful to connect with partners face-to-face again and discuss how we can best help your businesses move forward. For those of you we met there - it was great seeing you again. We trust you enjoyed the event and hope to see you at the next Siinda Live in Berlin!
September 2022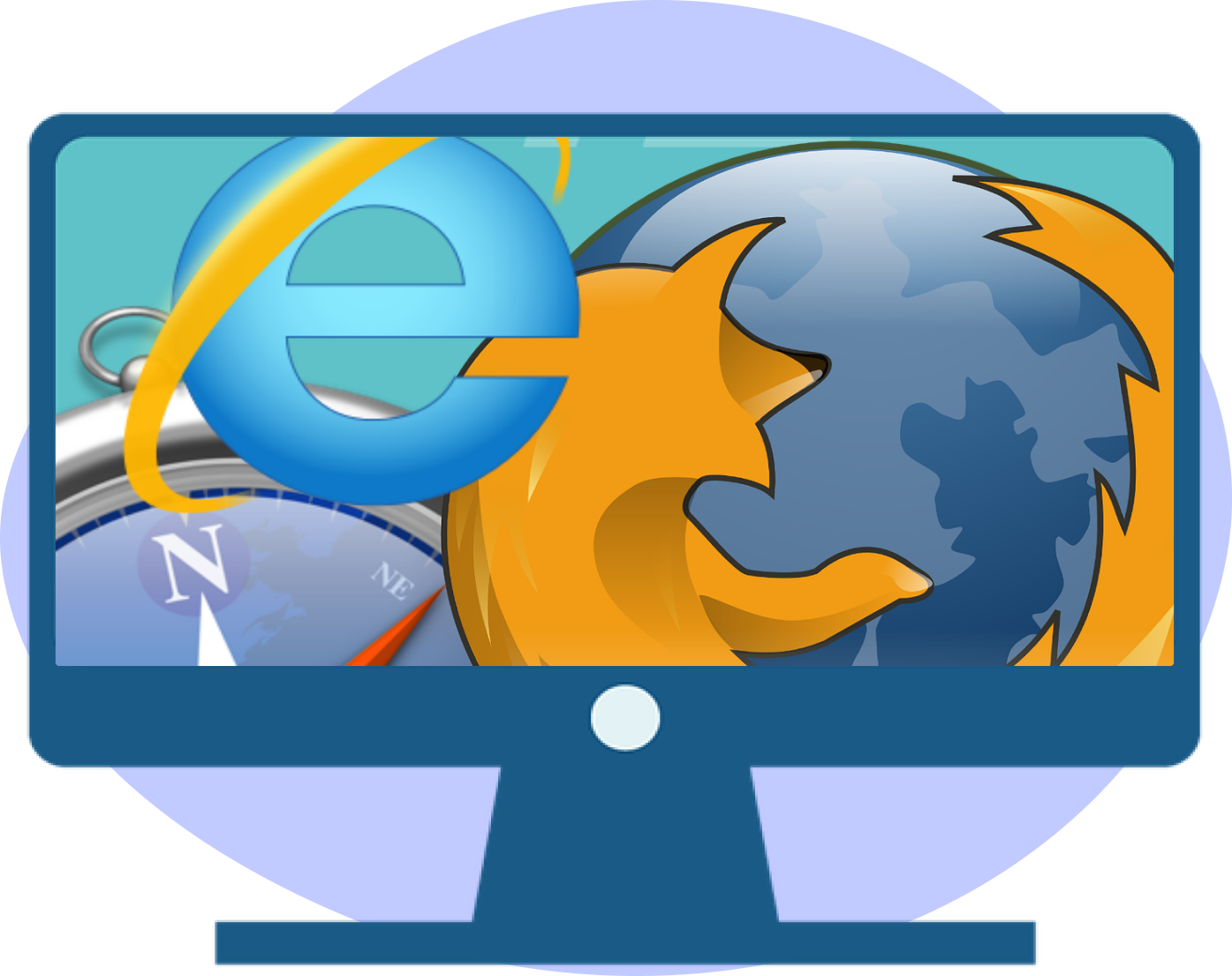 Web vitals: Reducing legacy JS on modern browsers
We have reduced the amount of JavaScript that we serve to site visitors, supplying polyfills only to older browsers. A polyfill is a piece of code (usually JavaScript on the Web) used to provide modern functionality on older browsers that do not natively support it. We also removed some Internet Explorer specific JavaScript that will not have to be loaded by browsers, as IE has been discontinued by Microsoft. These changes should improve lighthouse scores as well as page load times slightly and are steps towards improved web vitals.
Web vitals will continue to be an ongoing focus of ours. We will keep you up to date with improvements as we go along. We already have the next improvements in the pipeline which we are excited to share with you next time.
Ecwid Updates
Mono Ecommerce+ is powered by Ecwid, one of the leading e-commerce providers worldwide. They regularly provide updates on their solution. If you would like to be kept up to date, please read Ecwid's 2022 updates here.
Minor improvements and bug fixes
Editor freezing: When custom font names included special characters, such as quotation marks, it led to an Editor freeze. This has been fixed.

Row button not selectable for overlapping elements: In certain cases, the row button was not selectable due to columns being the same size. This has been fixed.

Product filter did not work with Product Catalog: With the transition of Mono Ecommerce to the Product Catalog, the product filter in the Product Catalog didn't work. This has now been fixed.

Shrinking headers for individual viewports: Shrinking headers could not be set for individual viewports. This issue has been fixed.

Blog RSS issue for multi-language sites: The RSS feed for multi-language posts was not working properly. This has now been fixed.

Unwanted modules being added to page: In some cases, the 'duplication of language' functionality under pages lead to random modules being added to the page. This issue has been fixed.

Vimeo embed issue: Video embed wasn't working because of an update Vimeo made to their embedding requirements. This has been fixed.
July and August 2022
Website load speed - deferring JS
We are excited to share that we have added deferred JS along with deferred CSS for improved website performance. Now we don't only defer CSS but also Javascript files to improve page speed. You can enable this option under Settings - Website settings - Website load speed.
You can delay the loading of styles (CSS) and Javascript files for certain elements on your website in order to speed up the initial load. This applies to the style sheets and Javascript files for the Gallery module, Instagram feed module, the Product Catalog module, and the Shop filter module.
With deferred loading enabled, these elements' styles and Javascript files won't load until the visitor is scrolling down and about to view them. The deferred loading technique may sometimes result in elements performing a small "jump" if the style sheets and Javascript files don't finish loading before the visitor views them.
Lazy load & prefetching now on per default
Lazy loading images and prefetching of internal pages will be enabled per default for all new sites. This will be beneficial for web performance while not disrupting user experience while loading. We recommend enabling the other web performance improvement options as well: enabling minimisation of render blocking requests and, as stated above, deferring unused CSS and JS.
We have chosen not to enable those per default as they can lead to jumping content, which might not be wanted over increased website performance.
You can read more about page load speed settings here.
Enabling load speed options makes a difference
Below you can see how the new page load speed options impact a site. We ran Chrome's built in Lighthouse report with the default settings, both with and without the load speed optimisation options enabled.
No options enabled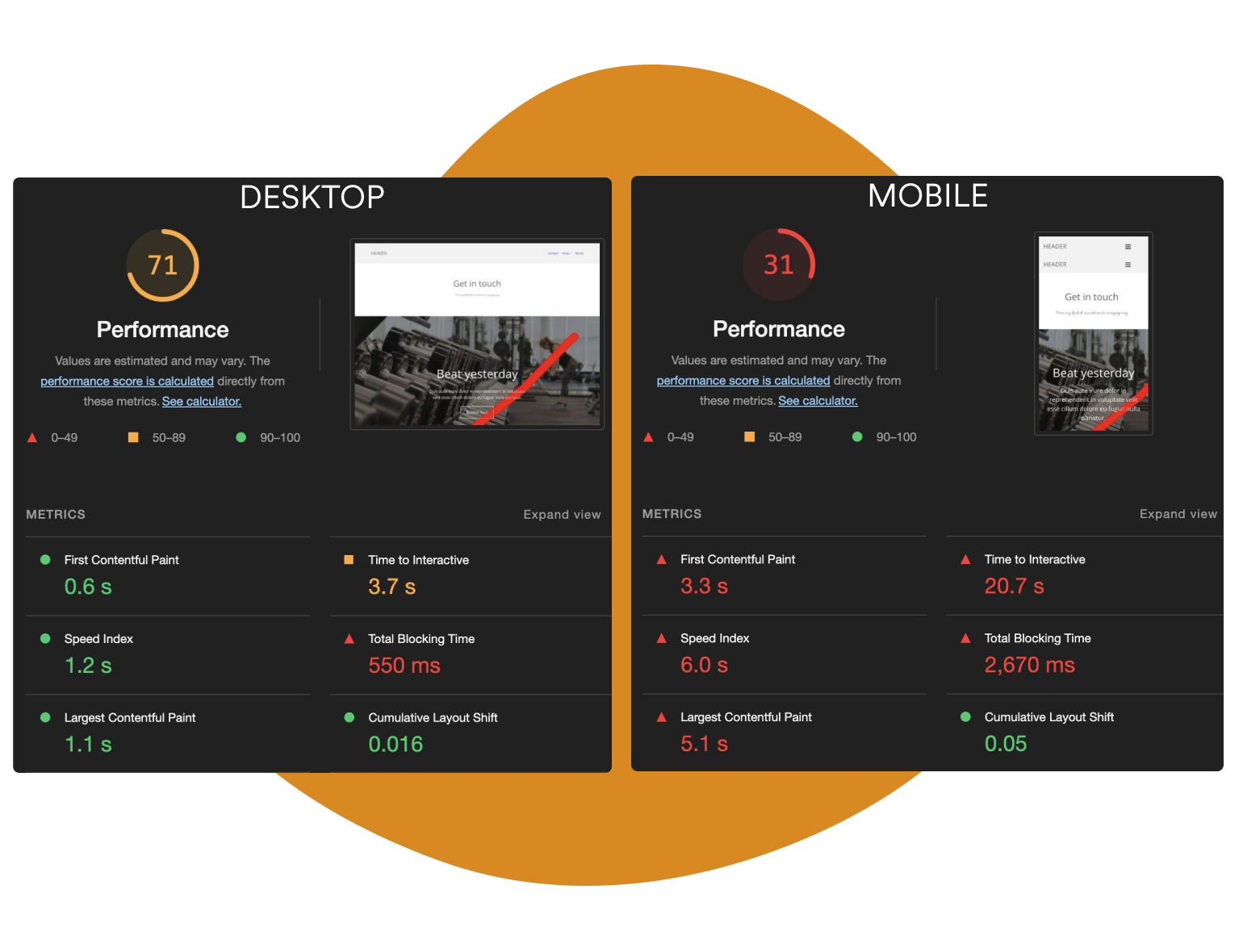 All options enabled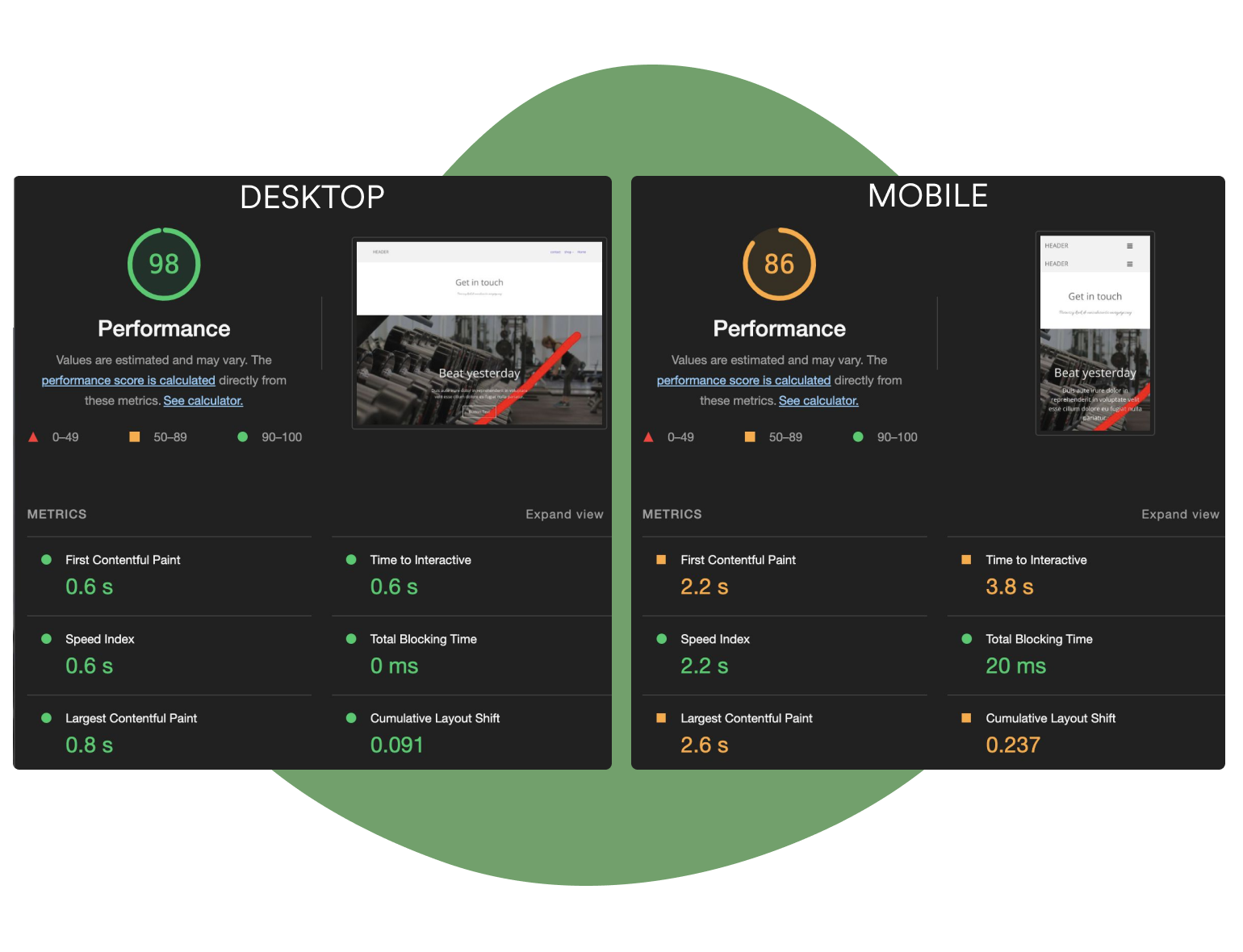 Web vitals will continue to be an ongoing focus of ours. We will keep you up to date with improvements as we go along. We already have the next improvements in the pipeline which we are excited to share with you next time.
Google Fonts proxy reminder
This April, we released a Google Fonts proxy to enhance GDPR compliance for European sites. The proxy prevents the visitor's IP address from being transmitted to the US.
To activate the Google Fonts proxy on your site, please make sure you have re-published your site since April 2022. If you haven't, simply do so now. Once you re-publish your site, it will automatically start using the Google Fonts proxy.
Ecwid Updates
Mono Ecommerce+ is powered by Ecwid, one of the leading e-commerce providers worldwide. They regularly provide updates on their solution. If you would like to be kept up to date, please read Ecwid's 2022 updates here.
Minor improvements and bug fixes
Row slider issue: We fixed an issue where the row slider settings would not be applied when accessed through the menu.
New Google Fonts added: We have added the following Google Fonts to the editor: Manrope, Sora, Inter, Barlow, Heebo, Red Hat Display, Space Grotesk, Literata, Urbanist, Faustina, Sarabun, Yantramanav and Gemunu Libre.
Formatting of special characters: Fonts in editor were not formatting special characters correctly. This has been fixed.
Column resizer: We have made the column resizer accessible. It was not possible to drag the column resizer when there was very little spacing. This has been fixed.
Open PDF in new tab: The option to open a PDF file in a new tab did not work properly in some cases. This has been fixed.
Site API: The site API is seeing some performance gains being added as we work towards a more durable solution.
Shrinking header options for different viewports: Shrinking header can now be set individually for viewports.
hCaptcha not found: hCaptcha function was not found in some cases. This has been fixed.
Option to close Gallery with 'ESC': It is now possible to close the Gallery with the 'ESC' button.
Arranging products in the Catalog module: In some cases, it was not possible to arrange products in the Catalog module as desired. This has been fixed.
Misalignment of the cursor: An issue with misaligned cursors when dragging elements has been fixed.
Console throwing errors: We fixed cluttering of the console throwing benign errors.
Overlapping of settings overlay: Columns and modules of the same size would make the settings overlay overlap. This has been fixed. We are currently also working on the row button which will be released these days.
Importing customers via Excel: There has been some issues with importing customers via Excel. This has been fixed.
Scrolling issue when editing a text module: It was sometimes not possible to scroll in the editor when editing a text module. This has been fixed.
Editing select options: We fixed an issue with editing select options.
June 2022
Launching the Product Catalog
We rolled out the Product Catalog on the 28th of June. It is now available to everyone and will be replacing our native Mono Ecommerce. Learn more about how the transition is taking place here.
The purpose of the Product Catalog is solely to offer a freely available tool to display your products. If you need a full e-commerce solution with cart, payment and shipping, you will need to switch to Mono E-commerce+ (powered by Ecwid). Mono E-commerce+ is the only ecommerce solution we will offer going forward.
Ecwid is one of the leading ecommerce providers with a focus on SMBs and advanced features to meet all your web shop needs. Reach out to us if you would like to make the switch.
Answering your questions about GDPR
GDPR continues to be one of our most important focus points and a topic we get many questions on. We are excited to share with you the answers to some of the most frequently asked questions that we receive. Read them here.
Continual improvements to web vitals
Web vitals is one of Mono's core areas of focus. Our built-in features in the Mono Editor and Mono templates ensure a great starting off point, however we are committed to continual improvements. We look forward to sharing what we have worked on in future updates - stay tuned.
Minor improvements and bug fixes
hCaptcha release fixes: In some cases, the submit button had to be clicked after completing the challenge - this is now adjusted so that the input is submitted once the CAPTCHA challenge is completed. Some display issues related to the positioning and styling of the hCaptcha widget have also been fixed.
Name server infrastructure update: We have made improvements to our name server infrastructure by configuring our NS3 on a new host, which will greatly improve the domain registration process.
Resizing columns: Forms were previously collecting data without having data collection enabled. This has been fixed.
Additional information for CSV exports in RAI: We have added more information when exporting CSV in RAI for you to use: publish date, total page count, and subpages.
Cookie bot banner fix: We have fixed an issue that caused age restriction to block Cookiebot banners from rendering.
Image wrapping for text or button modules: We have fixed an issue with the image wrapping in the editor for multiple text or button modules.
Required fields in forms: Some form fields were labelled as 'required' even though they hadn't been set as such in the editor. This issue has been fixed.
Improvements to the scroll bar: We completed some follow-up fixes and improvements to the newly introduced scroll bar.
Company news
We have reached that time of year where many of our partners and members of the Mono team are enjoying a well-deserved holiday during these summer months.
Our colleagues from Portugal joined us at the beginning of the month for our annual summer party which was a wonderful opportunity to catch up and celebrate everything we have achieved.
May 2022
Launching of new Product Catalog
As we mentioned in an update from mid-May, we previously offered two e-commerce solutions - our own native e-commerce solution and the integration with Ecwid known as Mono Ecommerce+; and that going forward, we are solely offering Mono Ecommerce+ for new e-commerce subscriptions.
To coincide with this change, we are also launching the Product Catalog, which will serve as a free and easy way for SMEs to display their products - without the possibility of purchasing items. The Product Catalog will be available in the Mono Editor from June 21st. Additional information will be provided closer to the release.
Ongoing improvements to web vitals
We know that web vitals, especially page speed performance, is of great importance to our partners (as it is to us!) - that is why we have built-in features in the Mono Editor and Mono templates to help SMEs with a great starting off point. However, we know continual improvements can always be made - and this month marks the start of our renewed focus on web vitals. Stay tuned for updates about web vital improvements in the coming weeks.
Switching to hCaptcha
We would like to remind you that we will switch from Google's reCAPTCHA to hCaptcha on 31 May. As opposed to Google's reCAPTCHA, hCaptcha complies with GDPR and data is typically processed locally within your country.
Keep in mind that it may take a few days for the cache to clear to reflect the change.
Besides the addition of hCaptcha, we would also like to inform you that we have made further updates to our third-party-services to reflect an up-to-date overview of services we use (removal of AppCues and Heap). You can find this on our third-party services & applicable terms.
Minor improvements and bug fixes
Contact form issues fixed: We fixed the issue of the first dropdown option, which was not always selectable.
Resizing columns: Resizing columns is now possible for when columns and modules have the same or nearly the same size.
Scheduling button for mobile fixed: We have fixed a bug in Mono Scheduling. The "Create new appointment" button for mobile now works as intended.
Gallery module fix: The gallery module was not using the proper module styles when the Instagram feed module was on the page - this has been fixed.
Video & row module cookiebot fix: We added Cookiebot to video loading which initially caused a bug of not displaying the video frame in the proper style.
Company news
The Siinda Conference, Mallorca, 2022: Siinda was the premiere event the Mono team attended in May. It was wonderful to talk with our partners, listen to interesting speakers, attend great events, meet new friends, and discuss new ways to help move small businesses forward.

The event also provided a great venue to hear the needs of our partners and to get valuable feedback on how Mono can serve them. Want to share your feedback with us as well? This will be the last chance to participate and it only takes a couple of minutes. Fill out the partner survey here.


The Mono Team: In the beginning of June, the Danish team was met with new faces in the office, as our colleagues from Portugal joined us in Copenhagen for the week. They also joined our company summer party.

We have also been busy these last few months finding new, great additions to the Mono team, two of which will be starting June 1st - Lisbet Laursen as Sales Manager and Ankido Borissov as Financial Controller. This follows the additions of Ravi Desai as Senior Developer in May and Mette Nielsen as Marketing Coordinator in late April. Another marketing staff update includes Julianna Carlson-van Kleef, Content Creator & Master Trainer, who will be on maternity leave from June 1st.


April 2022
Switch from Google reCAPTCHA to hCaptcha
As we mentioned in our roadmap for 2022, we have been working towards switching out Google ReCAPTCHA as part of our continued focus on GDPR compliance. We are happy to inform you that we are replacing the Google reCAPTCHA feature with a new provider called hCaptcha. hCaptcha is widely used across the world and will help our compliance efforts by protecting user privacy, while at the same time serving as powerful bot protection. Learn more about hCaptcha here.
We will make the switch Tuesday, May 31st. We will send out a reminder email with additional information about this upcoming change closer to this date.
Migration of V3 sites to II planned throughout this year
Mono wants to provide you and your customers with the most up-to-date Mono Editor available for quick fulfillment, easy updates, and a better user experience. Our current version (II) of the Mono Editor is not only the most robust version, it also provides much more functionality - such as increased editing options, increased GDPR-compliance and optimized page speed, and the addition of other Mono Products.

We want to direct all our development efforts towards maintaining and improving version II going forward and have therefore decided to say goodbye to all V3 sites throughout this year.
If you haven't already been contacted about the migration of any existing V3 sites, you will be soon. In the meantime, we have compiled a variety of resources to assist you, including a case study with Schlütersche detailing how the company went about upgrading customer sites from V3 to II, an introductory video to Mono Editor (II), an article explaining the main differences between V3 and II, a feature comparison of the V3 and II editors, and more.

Find more information here.
Improved monitoring for increased stability
As part of our 2022 roadmap, we mentioned that we also planned to focus on the internal infrastructure of our platform. We have taken measures to further increase the robustness of our platform and be more proactive in fixing issues before customers are affected by investing in an improved monitoring system of our platform. This has now been fully implemented, and we will continuously adapt and improve the new monitoring over the next couple of months as we keep a close eye on the stability of the Mono platform.
Bug fixes & minor improvements
Scroll bar for the Editor:

We have added a scroll bar to our Editor which will enable users who don't have the scroll functionality on their mouse to scroll, as well as facilitating the Editor use on tablet devices.

Weekly RAI notifications are sent again: Notifications about Mono subscriptions that will expire are being sent again automatically every Monday at 3:00 am.
March 2022
New grid and hover interactions
On March 7th, we released an update to the Mono Editor, where users can now experience a cleaner grid, a quick menu, improvements to the drag and drop experience, and simpler hover interactions. This new interface allows for more intuitive interactions with modules, columns, and rows
Read more about the changes here.

Although we tested the updates thoroughly prior to release, there were still some initial bugs. In the time since the release, we have worked to fix those; including:
Supporting overlapping elements: when modules, columns and/or rows have the same, or close to the same size, it was previously not possible to view the menus of their parent elements. This has now been fixed by making them all available when they overlap.

Minor display issues (menu and button visibility and alignment, border issues)
Making the header button and second slider menu reachable
Google Fonts proxy
Last month, one of our main focuses for the month was creating a Google Fonts proxy to prevent the visitor's IP address from being transmitted to the US. From the 1st of April, 2022, Mono Solutions will release the Google Fonts proxy to all partners to enhance GDPR compliance for European sites. To use this new proxy, simply re-publish your site. Your site will automatically start using the new Google Fonts proxy.
More information including FAQ can be found here.
New e-commerce solution
We are discontinuing our native and homegrown e-commerce solution and replacing it with Mono Ecommerce+. This solution is powered by Ecwid - one of the leading ecommerce providers worldwide - and integrates shop management into the Mono Editor.


To ensure a seamless transition for you and your customers, Mono Solutions is offering to migrate all e-commerce products to the new solution, free of charge. If you haven't already received information about this migration, please reach out and we will find a way forward.
Bug fixes and minor improvements
Improvements in the indexing of store pages: We have made additional improvements to the Ecwid integration to further improve proper indexing, which are encoding of URLs to index pages properly even if URL parameter get added that would otherwise be invalid, as well as not indexing of non-store pages (such as Ecwid sign in page).

Form modules: We have worked on improvements to form options to make sure form information is being saved: if users have not selected one way to store form data (email inserted locally or via global data or saving through customers), they will see a warning message. This way, we can avoid form data being lost.
February 2022
Google Fonts proxy
As GDPR compliance is one of our main focuses this year, we have started off the year with creating a Google Fonts proxy, preventing the visitor's IP address from being transmitted to the US. While Google Fonts do not set cookies, they do record a visitor's IP address for analytical purposes and this data is sent to the US, which is considered a third country. This makes our use of Google Fonts fully GDPR compliant.

The solution will be released gradually to ensure a safe and seamless transition.
Ecommerce migration
The migration from our homegrown e-commerce solution to a new product called Mono Ecommerce+ which is powered by Ecwid - one of the leading e-commerce providers worldwide - is well underway. If you haven't already received information about this, you will, in the coming few weeks.
Bug fixes and minor improvements
Included option to open external link in new tab for on-site engagements.

Make the domain registry process in Sweden GDPR compliant. Since the 12th of January ".se" and ".nu" domains are only allowed to have one contact associated. The code had to be adapted to make this feature detached from other registry processes. This prevents sending admin, billing and tech contacts during a domain update or registering.

Fix for anchor links ensuring that the page scrolls to the correct destination.

In the "Link and download" module in the editor, a site owner can add elements on top and below the list. This fix made sure that elements are in fact added to the top when that option is selected.

The sender address for the weekly RAI notification has been changed to avoid being flagged as phishing in the recipients' inbox.
January 2022
Ecwid integration improvements: To avoid indexing issues due to duplicate content and to improve SEO, we have made an improvement to our Mono Ecommerce+ integration. Each store page (both category and product pages) across all existing live sites using Ecwid are now indexed as individual pages through canonical links. Additionally, we've made some fixes to the sitemap to properly display Ecwid pages.
-------------------------------------------------------------------------------------------------
2021
August, 2021
July, 2021
June, 2021
April, 2021
February, 2021
January, 2021
-------------------------------------------------------------------------------------------------
2020
December, 2020
Editor/Blog: Scroll to top icon added to blog post pages
Editor: Instagram feed module now shows first image from multi-image posts
Editor: German translations updated
Editor: Dashboard quick access section doesn't show on mobile
Editor: Fixed header issues resolved
E-commerce: Filter module issue resolved
E-commerce: Paytrail issue resolved
Scheduling: Time zone display issues on appointments list resolved
November, 2020
Support for .pt domains (requires addendum to contract)
Editor: UTF-8 character bug in HTML module resolved
Editor: All translations updated
Editor: Fixed translations on One-Click Sites
Editor: 301 redirects interface improvements
Editor: Font search feature strengthened
Email Marketing: Implemented warning field when no recipients with marketing permission are in the selected audience
Customers: Updates to "Create new customer" overlay
October, 2020
September, 2020
August, 2020
Important update to default user roles
Please note that Mono has renamed the generic diy user role to simple_editing_mode as we're reserving the diy user role for our white-label Mono DIY offering that you'll hear much more about in the near future.
The simple_editing_mode role configuration is exactly the same as for the role now formerly known as diy. Nothing has changed.
If you don't specify a user role when creating a new website, the simple_editing_mode role is automatically applied to it.
Do I need to take any action?
You only need to act if you have already been contacted by Mono. If you haven't heard from us, you don't need to lift a finger.
More information
All the Mono generic user roles are listed here.
July, 2020
May, 2020
—> On-Site Engagements optimizations
—> German translations updates for E-commerce
—> Pricing decimals calculations improvement for E-commerce
—> New font color icon in Text Editor
Weeks 15 & 16, 2020
March, 2020
Week 14, 2020
Week 13, 2020
Weeks 11 & 12, 2020
- Blog text input fields enlarged
- Cookie banner headline styling improved
- Translations for the editor added and updated
Week 10, 2020
February, 2020
Weeks 8 and 9, 2020
Week 7, 2020
Week 6, 2020
January, 2020
Week 5, 2020
Week 4, 2020
-------------------------------------------------------------------------------------------------
2019
December, 2019
Week 51, 2019
Weeks 49 & 50, 2019
November, 2019
Week 48, 2019
Editor, Sites & E-commerce
Weeks 46-47, 2019
Editor, Sites & E-commerce
—> Bug-fixes and minor improvements
- Improved termination process for .DE domains from RAI
- Nigerian and Ghanaian currencies added for e-commerce
- Autofill improvements for form fills in Safari
Week 45, 2019
Editor, Sites & E-commerce
October, 2019
Week 44, 2019
Weeks 42 & 43, 2019
Week 41, 2019
Week 40, 2019
Week 39, 2019
Weeks 37 & 38, 2019
Week 36, 2019
Week 27, 2019
June, 2019
Week 26, 2019
Week 25, 2019
Week 22, 23, 24 2019
Week 21, 2019
Editor, Sites & E-commerce
Week 20, 2019
Week 19, 2019
April, 2019
Week 16, 17, 18 2019
Week 15, 2019
Week 14, 2019
March, 2019
Week 13, 2019
Week 12, 2019
Week 11, 2019
Week 10, 2019
Week 7, 8, 9, 2019
January, 2019
Week 4, 2019
Week 3, 2019
Week 2, 2019