Font weights enable you to apply a richer design to typography that goes beyond the singular choice of bolding or not bolding text.
All font families in the Editor come with different weights that you can select from. The example below shows the font family Source Sans Pro in all available weights: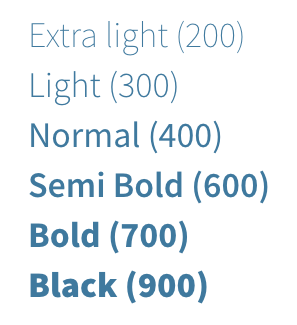 Not all font families have a full list of weights available - it depends on which weights have been created by the designer. You can view available weights and preview designs on the Google Fonts website.
Where do I select font weights?
Font weights can applied in two places:
In Global Design > Global texts, you can apply font weights to any of your text styles.
In the Text Editor, you can apply font weights to text paragraphs, sentences and individual words.