What is ICANN validation?
An ICANN validation is necessary when you change contact information for an existing domain or when you register a new domain. The purpose of the validation is to make sure that the domain owner approves the change and that it isn't generated by a robot. It's the domain owner who has to validate the changes.
An ICANN validation is only required for gTLD domains as ICANN is the registry of these types of domains. The action requested in the validation email is for the domain owner to confirm that they have registered or modified the domain and that their email address is operational, as per ICANN's terms and conditions. These terms and conditions only pertain to ICANN and Mono has no control over or influence on this validation flow.
Example of what the email looks like: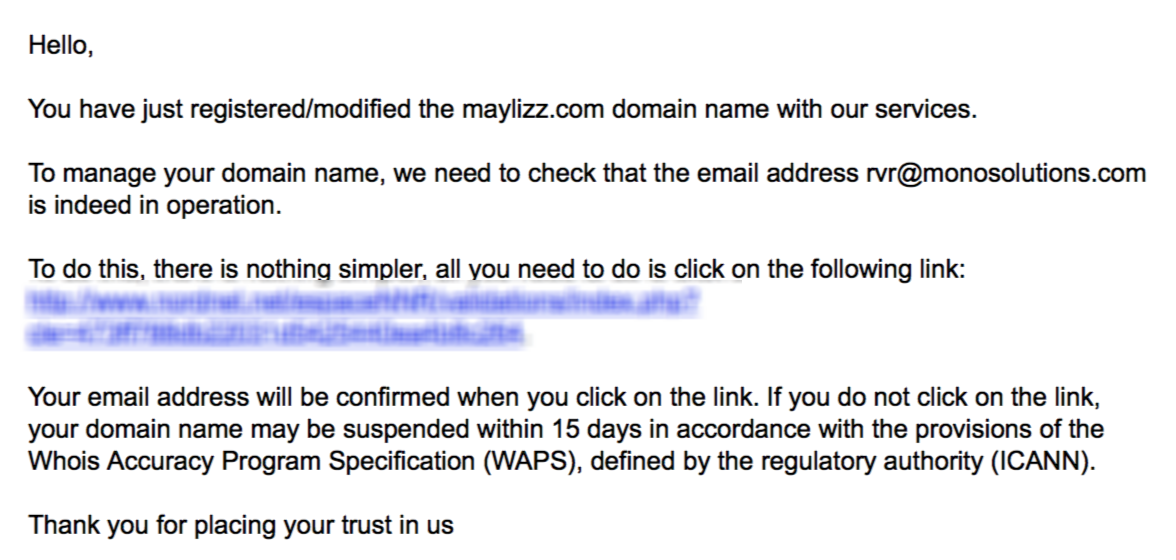 Importance of validation
If the domain owner doesn't respond to the email and accept the terms and conditions, the domain will be suspended 15 days after it was registered.
The ICANN validation process
The domain owner receives an email requiring to agree to the terms and conditions of getting a domain.
The verification email is sent from the Registrar.
The email will be re-sent on day 5, 10 and 13 within the 15-day validation window, if the domain owner hasn't accepted the terms and conditions.
Messages on day 10 and 13 of this process will also be sent to the Admin (you), Tech and Billing contacts.
A "Your domain has been suspended" email will be sent to the domain owner on day 16.
Failing to provide a response within 15 days will suspend the domain name.
As a result, the name will be placed on ClientHold status, rendering the domain name inactive.
A validation email will also be sent if a change is made to one of the following Registrant contact fields: first name, last name and email address. If the Registrant email is changed, the email will be sent to the new email address specified.
Suspended domains will show a blank page and will not have their DNS settings modified. This allows us to turn the domain back on immediately after it has been verified. Validating the domain name immediately removes the ClientHold status.
Check validation status in RAI
In RAI, you can check whether the customer has completed the ICANN validation, re-send the validation email, and update the customer's email address in case they want the validation email to be sent to a different email than the one used when the domain was initially registered.
Click on the Manage button next to the domain in question to see the ICANN options.