Many regional privacy frameworks stipulate that website owners must clearly document to visitors which cookies are being set on their website and for what purposes. Maintaining such a cookie declaration can be both tedious and time-consuming as you manually have to add cookie descriptions every time you embed new third-party content.
As part of the Cookie Consent product, you have the option of adding a fully auto-generated cookie declaration to your site. The list of cookies, their purpose, expiry and type updates automatically every time your website is re-scanned for cookies (once a month). This means that you won't ever have to worry about updating it yourself!
On the cookie declaration, it's also possible for visitors to withdraw a consent or change their consent preferences.
How to add
The cookie declaration can be added through the dedicated Cookie declaration module which is available in the Editor once you have enabled the Cookie Consent product.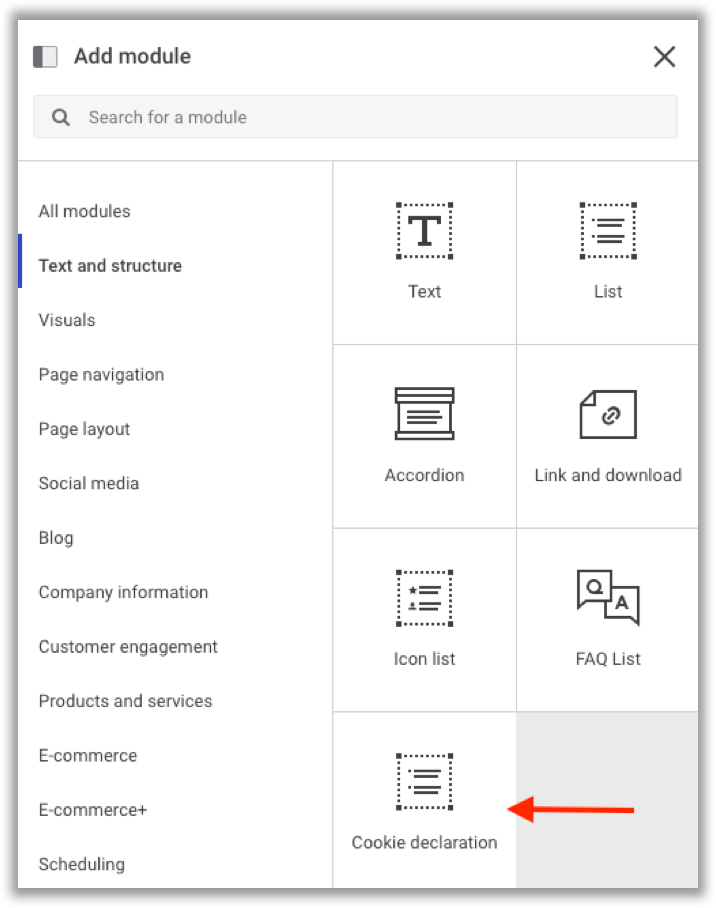 Cookie declaration visibility
The cookie declaration is only visible on the published version of your website and not in the Editor or preview mode.

It is not possible to edit any of the content in the cookie declaration. Cookiebot - the company that delivers the technology behind Cookie Consent - ensures that the cookie declaration texts are always up to date and legally compliant.
Supported languages
The language on the cookie declaration follows the language of your site. For example, if your site language is German, the cookie declaration also shows in German.
Find a list of all supported languages here. The only non-supported languages are Galician and French-Canadian. If a site is set to Galician language, the cookie declaration will show in Spanish. If a site is set to French-Canadian language, the cookie declaration will show in French.
Troubleshooting
If the cookie declaration is not showing to one or more visitors on the published website, encourage them to disable ad-blockers and other browser plugins that may be interferring with the rendering of the module.