Page settings is where you manage all page-specific information, including SEO and 301 redirects. Navigate to page settings from the main navigation by clicking Pages > Manage pages, then click the edit icon next to a page name and select Edit settings.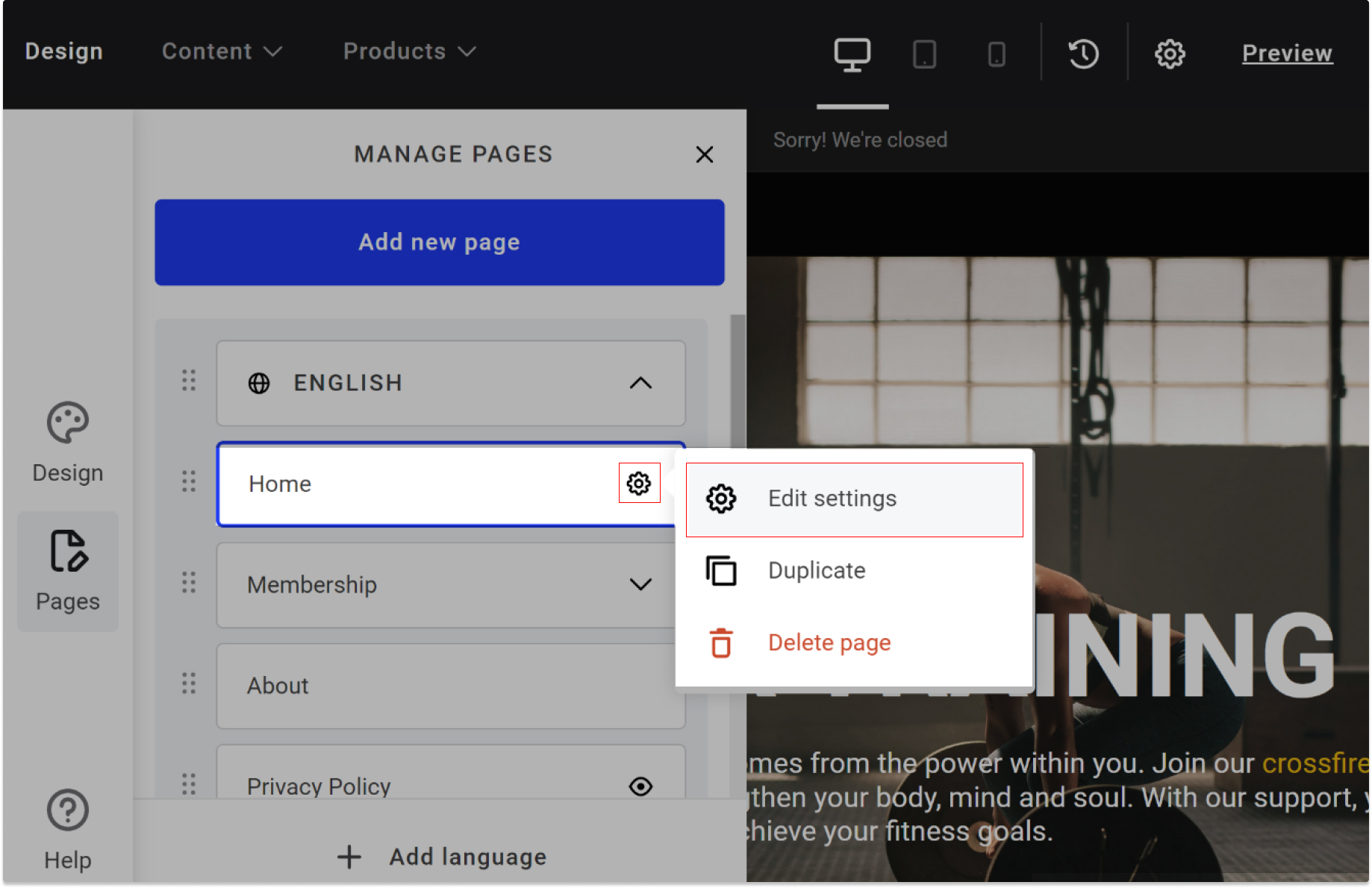 The page settings menu includes three sections: Content, Design and Settings.
Content
General

Page name
The name of a page is visible in the page overview of the Editor, in the main navigation on your website and on breadcrumbs (if you have added a Breadcrumb module to your website).
Page URI
A URI (Uniform Resource Identifier) is the final bit of a URL that identifies a specific page on a website, i.e. mydomain.com/about. The page URI automatically takes after the page name. You can easily change the page URI if you want to differentiate it from the page name. Change the URI by deleting existing information and typing in the new URI name. Be aware that the page URI can only contain lowercase letters from the English alphabet, numbers, underscores and dashes.
Updating your URI information
If you change the page name at any point, the Editor will automatically copy over that name as the URI. If you want to keep the URI the same as before the page name change, you'll have to manually re-enter the desired URI after updating the page name.
SEO
Page title, keywords and description
Search engine optimization (SEO) is very important to keep in mind when adding new pages to your website. Filling in SEO information ensures that your website has a better chance of "getting found" by search engines and, consequently, visitors. Remember to fill in the SEO fields before completing your page setup.
Automate page title creation
The Editor can automatically generate a page title for you by using the page name and Global Data. Read more on how to set it up here.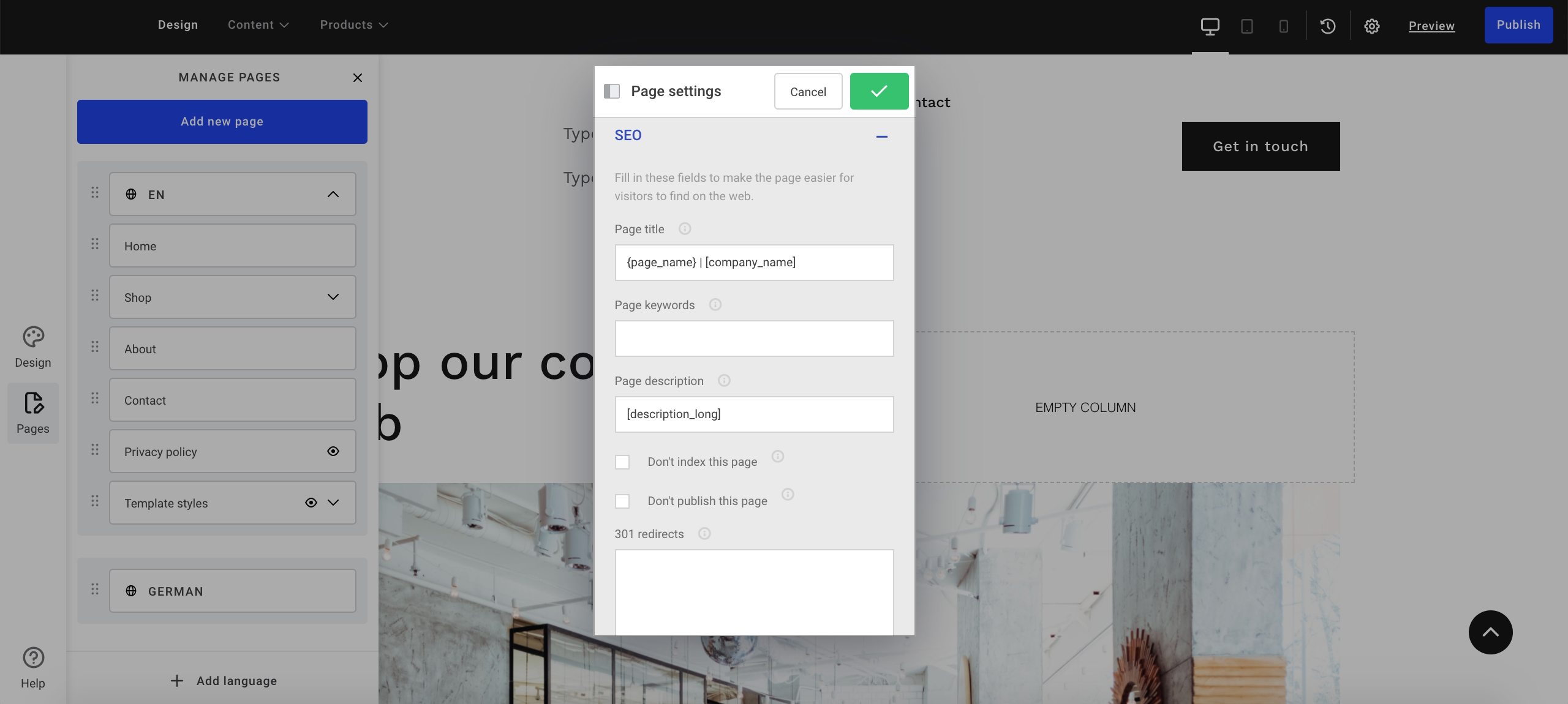 Don't index this page
When Don't index this page is enabled, search engines won't index the page and the page will, therefore, not be displayed on search engine result pages. This is for example useful when you have a hidden page with sensitive information that you only want to be accessible for certain visitors.
Don't publish this page
With Don't publish this page enabled, the specific page will not be published when the rest of your website is. Use this option if you are still working on the page but want to publish all the other pages on your website.
301 Redirects
A 301 redirect is a permanent redirect from one URL to another. On this section, it's possible to input one or more URLs to redirect them to the page you've just created. Read more about 301 redirects here.
Google Page Preview
When editing your page's SEO elements, you can preview what your page will look like on a Google search result page (also known as SERP, or Search Engine Results Page). This is to give you an overview of where specific information you've entered goes in the search result.
Add HTML
In the Add HTML field you can paste HTML code that will be inserted directly in the page's <head> tag once the website is published. This can, for example, be used in cases where you want to track conversion performance of a Google AdWords campaign and need to add a tracking tag on page level.

Other HTML options
If you want to add HTML to all of your pages at once, you can make use of the Editor's Global HTML feature.
You can also add HTML widgets and other elements on your pages by using the HTML module.
Sitemap
Sitemap ensures that search engines have the correct pages indexed and the correct organization of your website content. The sitemap is, therefore, a way to make search engines read your website more intelligently.
Priority indicates to search engines how important this particular page is in relation to other pages on your website, ranging from very low to very high. Change frequency indicates how often the page is likely to be changed/updated, ranging from hourly to monthly.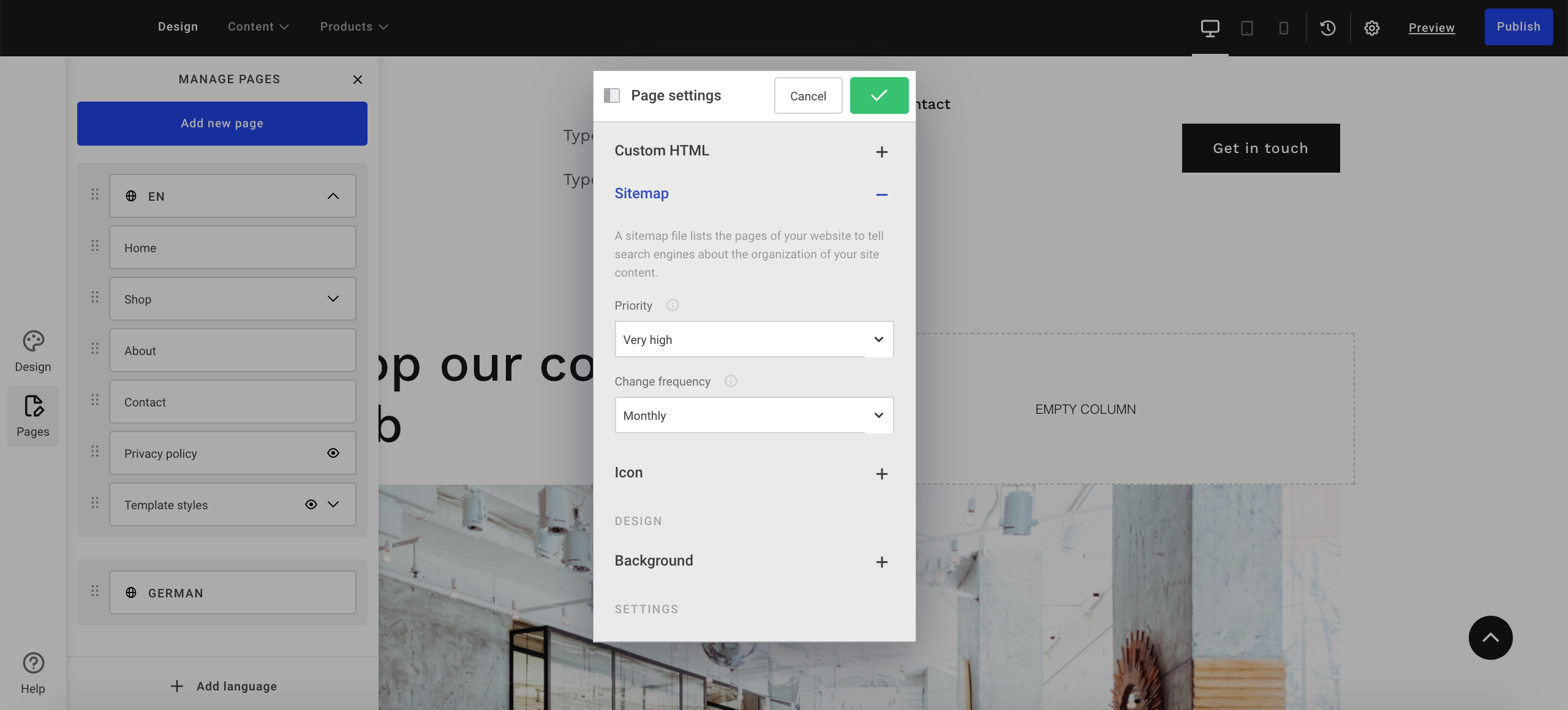 Icon
Add an icon next to your page name in the main navigation to help visitors immediately recognize what the page is about. Select the icon you want to appear in your navigation - when an icon is activated, a thin black border will surround it. If you regret including the icon, deselect it and the icon will be deactivated.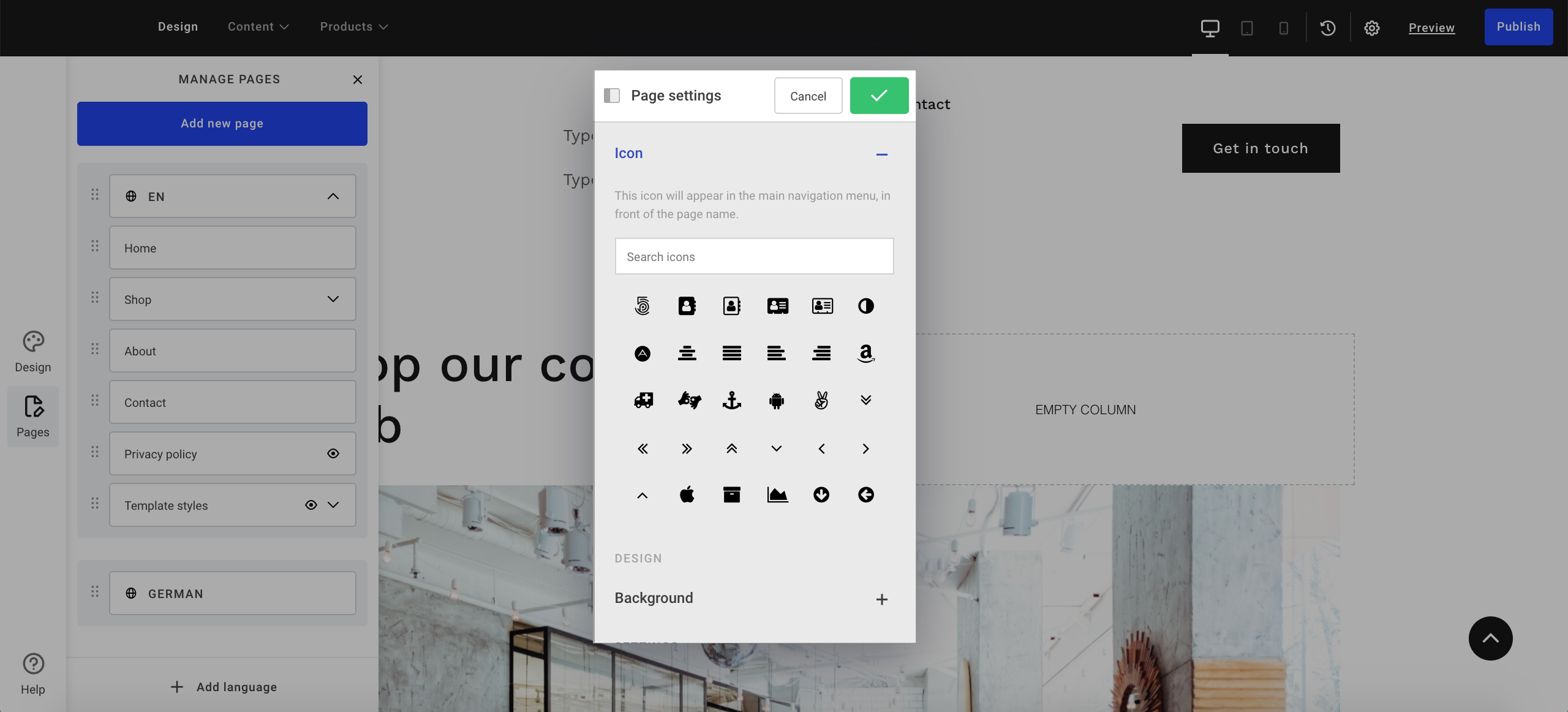 Design
Background
For the background of your page you can choose between applying a color, an image or leave it blank. If you leave it blank, the background color will inherit from your background settings on either main background, main wrapper or row background in Global Design.
Settings
General
Here, you can select Hide header on page or Hide footer on page. Enable one or both options to hide your website's header and footer on a specific page.
Why hide header and footer?
Hiding your header and footer can be useful in certain cases, for example when running a campaign or activity on your website where you want visitors to focus exclusively on the content present on the page. Hiding the header makes sure that the visitors can't see the rest of your website. Hiding the footer limits the amount of information on your page and, thereby, increases the probability of the visitor interacting with the intended element (for example a contact form) on the page and not clicking away to something unrelated.
Edit navigation link
By ticking the box Enable navigation link, the visitor will, when clicking on the page in the main navigation, get redirected to another page that you've specified.
Navigation link type: you can point the visitor to one of the following destinations:
External URL
Internal page
Email
File (for download)
When using navigation link, you can decide if you want the page to open in a new tab and you have the option of activating a "nofollow" property, meaning search engines won't follow the link.
Default behavior
When linking to external pages, the default setting in the Editor is to open the link in a new tab. This is to ensure that visitors don't get directed away from your website.
Hide page in navigation
You have the option of hiding your page from the main navigation in one or more of the three viewports. The page will be hidden once you've ticked the relevant boxes and saved your settings.
What does it mean when I hide a page?
Hiding a page means that page will be hidden from the website's navigation in the viewports of your choice. The page will still exist as part of your website but visitors can only access it if they know the exact URL of the page or if you link out to it from other places on your website, for example in the footer or from a button.
Password protection
You can password-protect a page and thereby control who has access to the page content. To do so, toggle Enable password protection and specify which of your customer group(s) you want to be able to access the page. Read more about managing customers and groups here.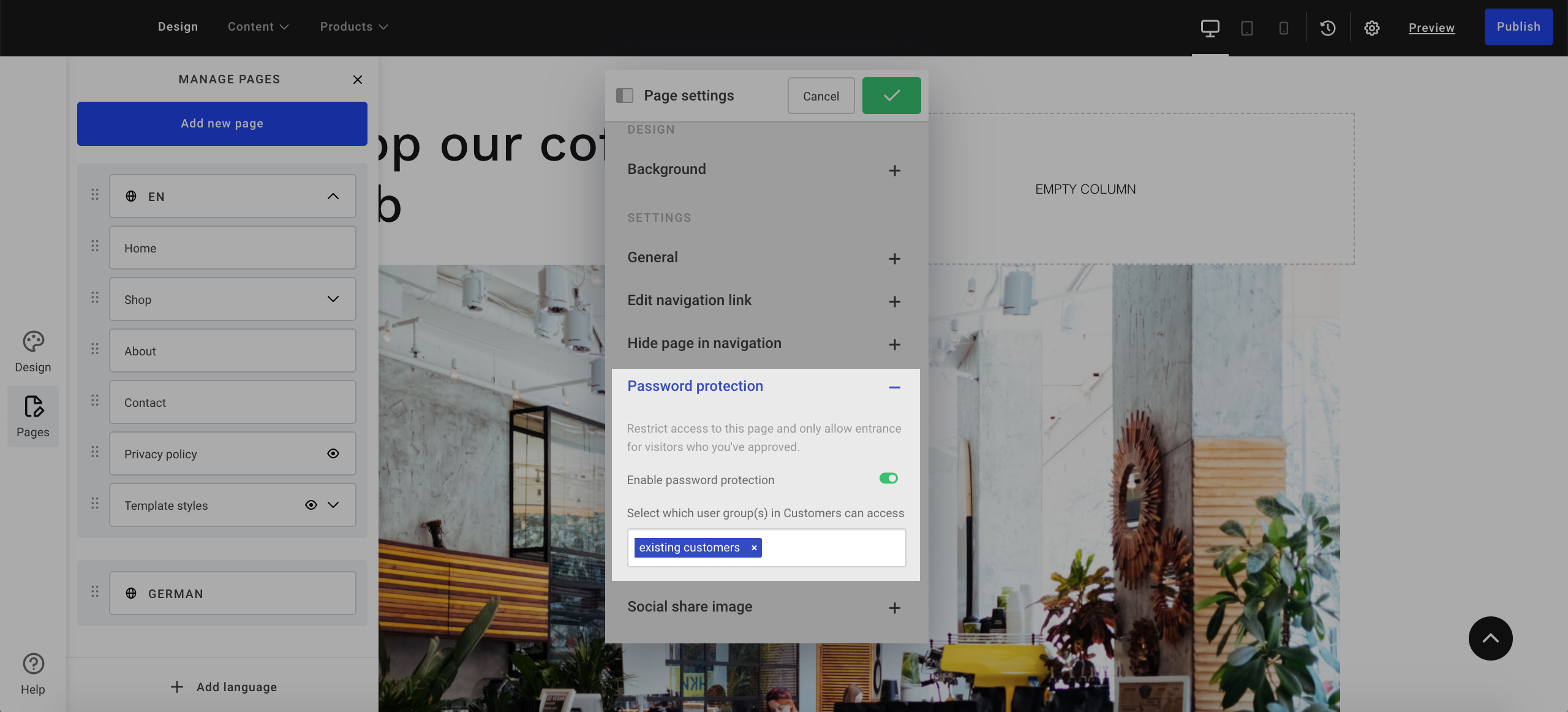 After you have enabled password protection on a page, a small lock will show next to the page name on your Manage pages menu.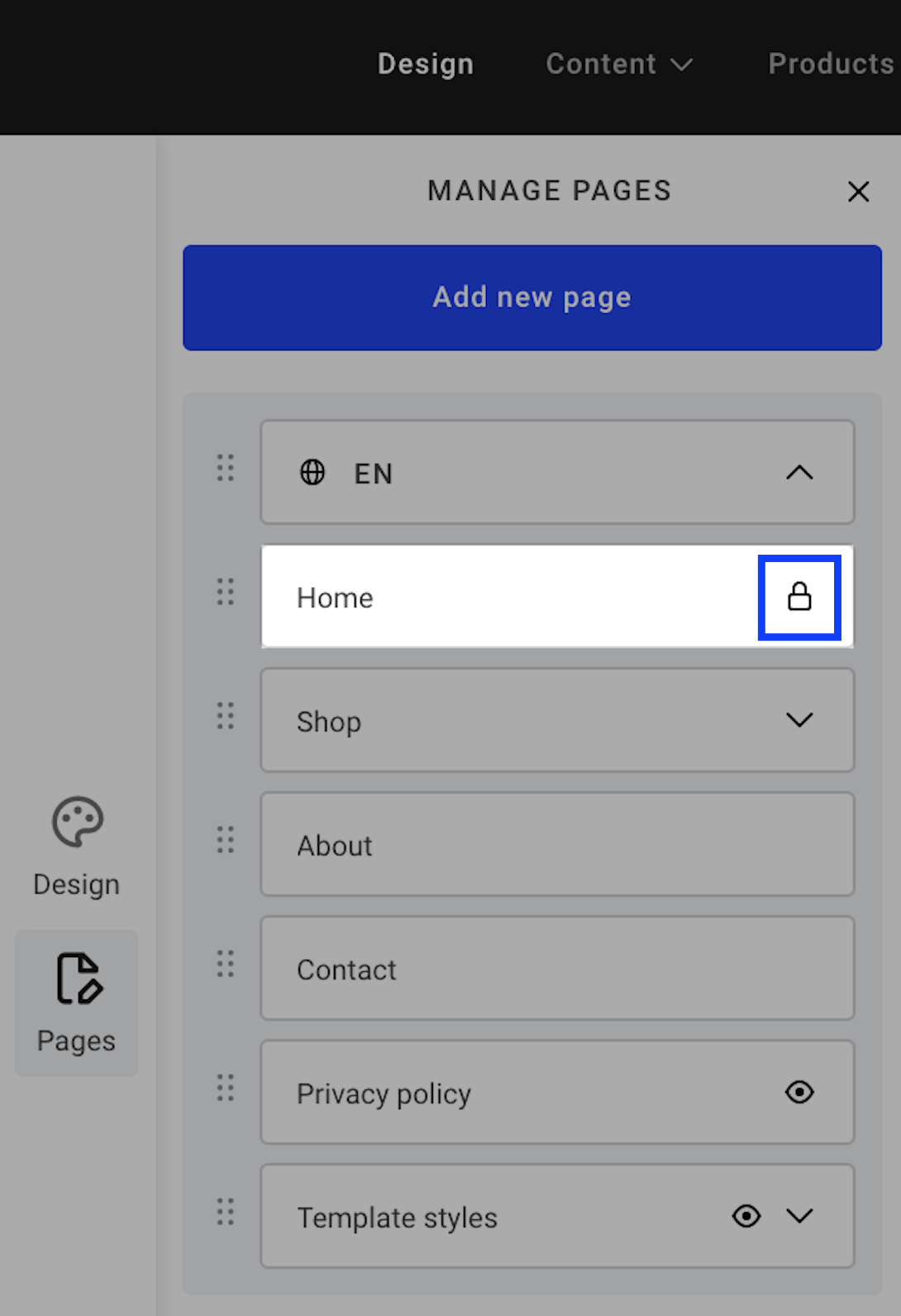 Once password protection is active and a visitor attempts to access the page on your published website, they will be prompted to log in or request access.

When a visitor has requested access to a password-protected page, a system-generated email will be sent out to the email address saved in Global Data, notifying you that a new access request is pending.
Read more about how you manage visitor access requests here.
Password protected pages and PWA
Please note that password protected pages won't work if you have enabled Progressive Web App (PWA) on your website.
Social share image
When you share the page on social media platforms such as Facebook and LinkedIn, you can select which image should be displayed as the featured image in the preview. Technically, this is accomplished automatically by tagging the image you select with Open Graph meta data in the published website code. Social media platforms pick up this tag and display the corresponding image.
By default, your cover image from Global Data will be used as the social share image. However, if you wish to use a different image, untoggle Use Global Data cover image and select an image from the File manager or your hard drive.