The Mono Service Team is your primary point of contact when you:
Want to report a bug
Need technical support
Have billing and product questions
Want to suggest a new feature or improvement
All requests and questions must be submitted through Mono's official service channel at https://monosupport.atlassian.net/servicedesk/
Before reporting your query, try searching here on Mono Help Center which contains guides and tutorials to all Mono products and features.
Submitting a request in three easy steps
Select the type of request you want to submit
Enter a thorough description of the request, include screenshots or videos, and let us know which site(s) it's in regard to.
Create your request. You have the option of sharing the request with your organization - which means that everyone from your company with access to the Mono service environment will be able to see it - or label it a Private Request, which means that it will only be visible to you.
Once you've created your request, you'll receive an email with your request ID.
Note
You're welcome to ask additional questions or submit more information by writing in the request thread or by replying to the email, as long as they are directly related to the nature of the request. If you have unrelated questions or issues, please create a new request.
In the request thread, you'll see the following options: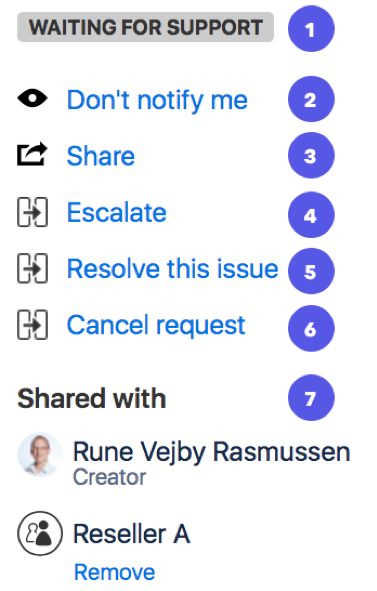 Status: This shows the current status of your request.
Notification status: Disable or enable email notifications when the status of your request changes.
Share: Share the request with a person or an organization.
Escalate: We will deal with escalations in accordance with what has been specified in your contract with Mono. Read more about escalations later in this article.
Resolve this issue: Mark the request as resolved. The Mono Service Team will not do anything further to the request.
Cancel request: Mark the request as cancelled. The Mono Service Team will not do anything further to the request.
Shared with: See who you've shared the request with. You can remove individuals or organization by clicking "Remove".
We'll respond to your request as soon as possible and in accordance with what is stated in your Service Level Agreement with Mono. If we need any additional information from you or have questions regarding your request, we'll post them directly in your request thread.
Request statuses
You can check the status of your request at any time after it has been created in the service channel. It will have one of the following six statuses:
Waiting for support
In progress
Waiting for customer
Escalated
Cancelled
Resolved
If the status is Waiting for customer and no comment has been submitted in 7 days, the request will be automatically resolved.
Once a request has been marked as Resolved, you can still re-open it by replying in the request thread within 7 days. If more than 7 days have passed, you will need to create a new request if you want the Mono Service Team to reassess the issue.
If you're reporting a bug
When you're reporting a bug, giving us as much information as possible will help speed up the resolution process. Therefore, please make sure to carefully explain the symptoms and let us know the steps to take in order to reproduce the bug on our end. Please also provide the site ID for the site where you're experiencing the bug and supply information about your browser version and operating system.
Refer to the table below a for step-by-step walkthrough of the bug reporting and resolution process.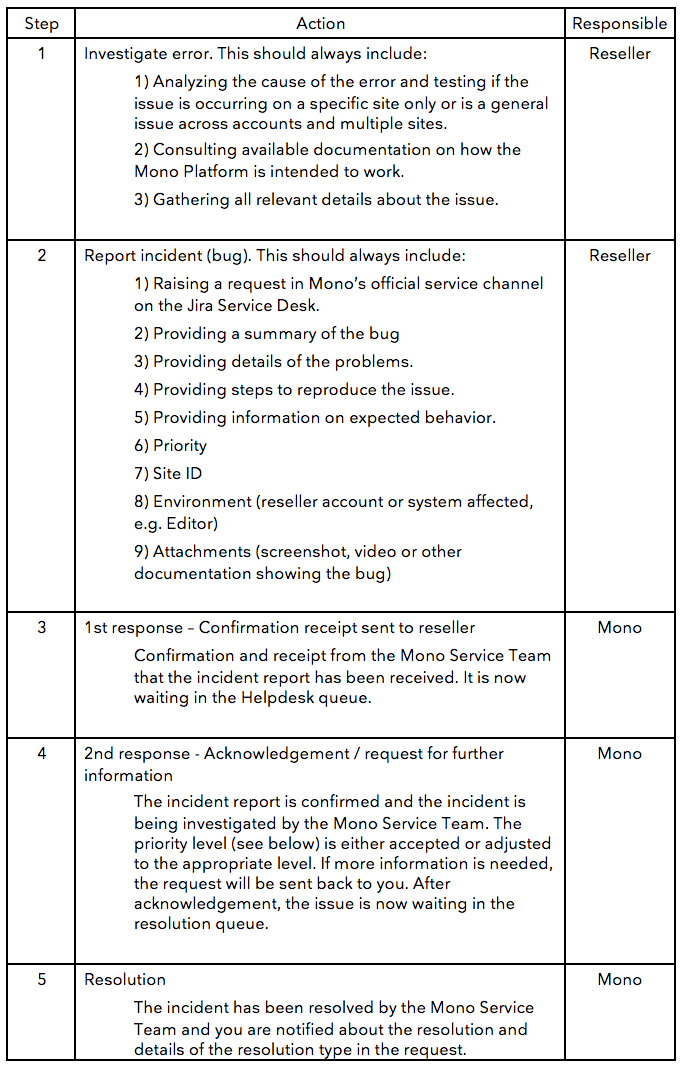 Priority
You have the option of assigning priority to your request, ranging from Trivial to Blocker. If doing so, please follow the guide below to help you set the correct priority.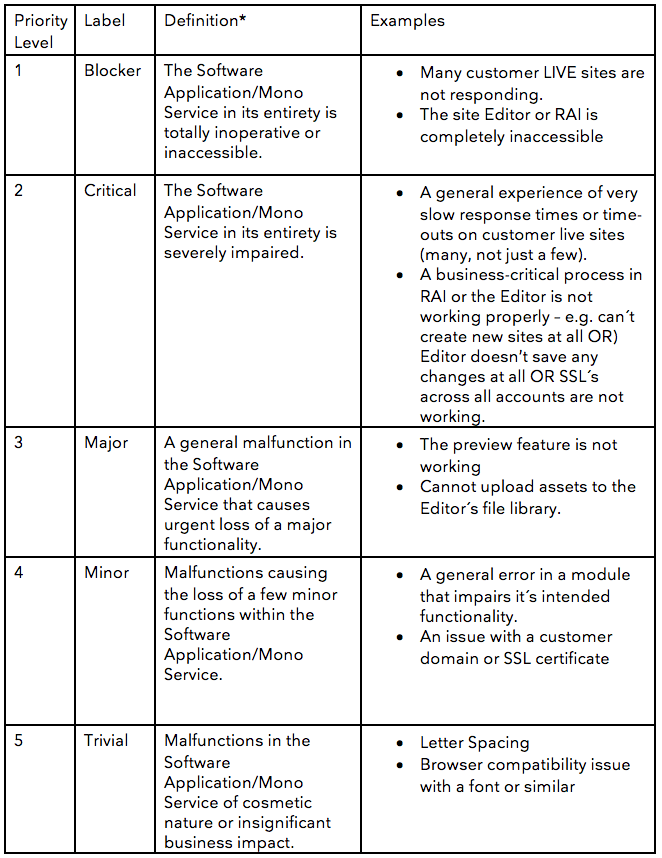 *For all reported issue-types, it is given that they are not caused by hardware, software or services for which the end-user is responsible. This includes addition of any 3rd party service, custom HTML or code to the site by reseller or end user.
If you're submitting a feature or improvement request
We love to receive suggestions for new features that can improve the use experience for you and your customers. To help us fully understand the nature of your suggestion, please make sure to explain use cases and how it would add value for users.
Example:
Insufficient: Add "Buy Now" button to E-commerce.
Good: As a web shop customer, I want to be able to purchase a product faster by clicking a "Buy Now" button on the product catalogue. That way, I don't need to first add the product to my cart, then open the cart, and finally proceed to checkout. This improves my shopping experience as it leaves out unnecessary steps in the checkout process.
If possible, add pictures and mock-ups to your feature suggestion to help visualize what you mean.
If you want to escalate a request
You may request escalation where you reasonably believe that insufficient progress is being made to resolve an error according to the time tables and procedures agreed in the Service Level Agreement.
The procedures and channels for escalation are:
1st escalation / request for status: Escalation directly to the Mono Service Team via Slack Channel (if one has been made available for you) or the escalation button in Jira Service Desk. The escalation should always include link reference to a request in Jira Service Desk.
2nd escalation: Email to named contact person in Mono (Account Manager or Partner Operations Manager). The escalation should always include link reference to a request in Jira Service Desk as well as the reason for the escalation.
Final Escalation: Email to COO or CEO with link reference to a request in Jira Service Desk as well as the reason for the escalation.