Once you have templates in your local library, you can start modifying them.
The process of building templates should be carefully coordinated with the go-to-market strategy of your organization. The template library should be built up in correspondence with the business segments in focus.
RAI users with the Admin, Fulfillment or Consultant role have access to build templates. The best templates are built by people with design skills as well as an understanding of market and best practices for different business categories.
Template acceptance criteria
The return on investment of building a substantial library of high quality templates may be extremely high. Before any template is created, the following acceptance criteria should be fulfilled:
All pages of the template should be completed
The template has a clear business category specific theme
The template is constructed after best practice for that particular business category, including relevant sub pages typical for the industry, for example a Menu page for restaurants or a Gallery page for photo studios, etc.
The template has been built with full-width modules so that it is responsive for all three viewports - desktop, tablet, and mobile.
The template has been tested in all supported browsers
No images or texts subjected to a third party's copyright were used
Global data tags have been included on the relevant pages and modules
The template has been named and described according to best practices
The template has been approved by the responsible person within your organization
Using Global Data
To facilitate and optimize production, Global Data should help you in the process between designing templates and generating sites.
The idea is that you build templates with empty Global Data tags in relevant areas. When uploading customer data - either in the Editor or through RAI - it will automatically be populated where you have left the empty Global Data tags.
For example, if you have added the [email] tag in the footer of your template, it will automatically populate the website owner's email address once filled into Global Data.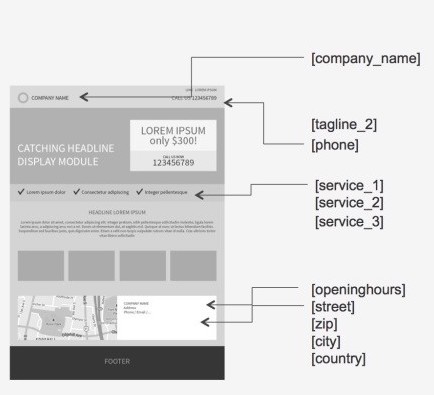 What is Global Data?
Global Data is a powerful and time-saving feature that allows you to reuse common and important business information as shortcuts, saving you time when adding and editing your website content. With Global Data you only need to enter the information once. The information will then be automatically filled in all the relevant modules on your site that refer to these Global Data nodes. Read more about Global Data here.
Where do I fill in Global Data?
When you create a new website for a customer, you can fill in Global Data for their site either directly via RAI, or in the Editor. Learn more about adding Global Data here.