Add your business opening hours on your website to make sure visitors know when you're open.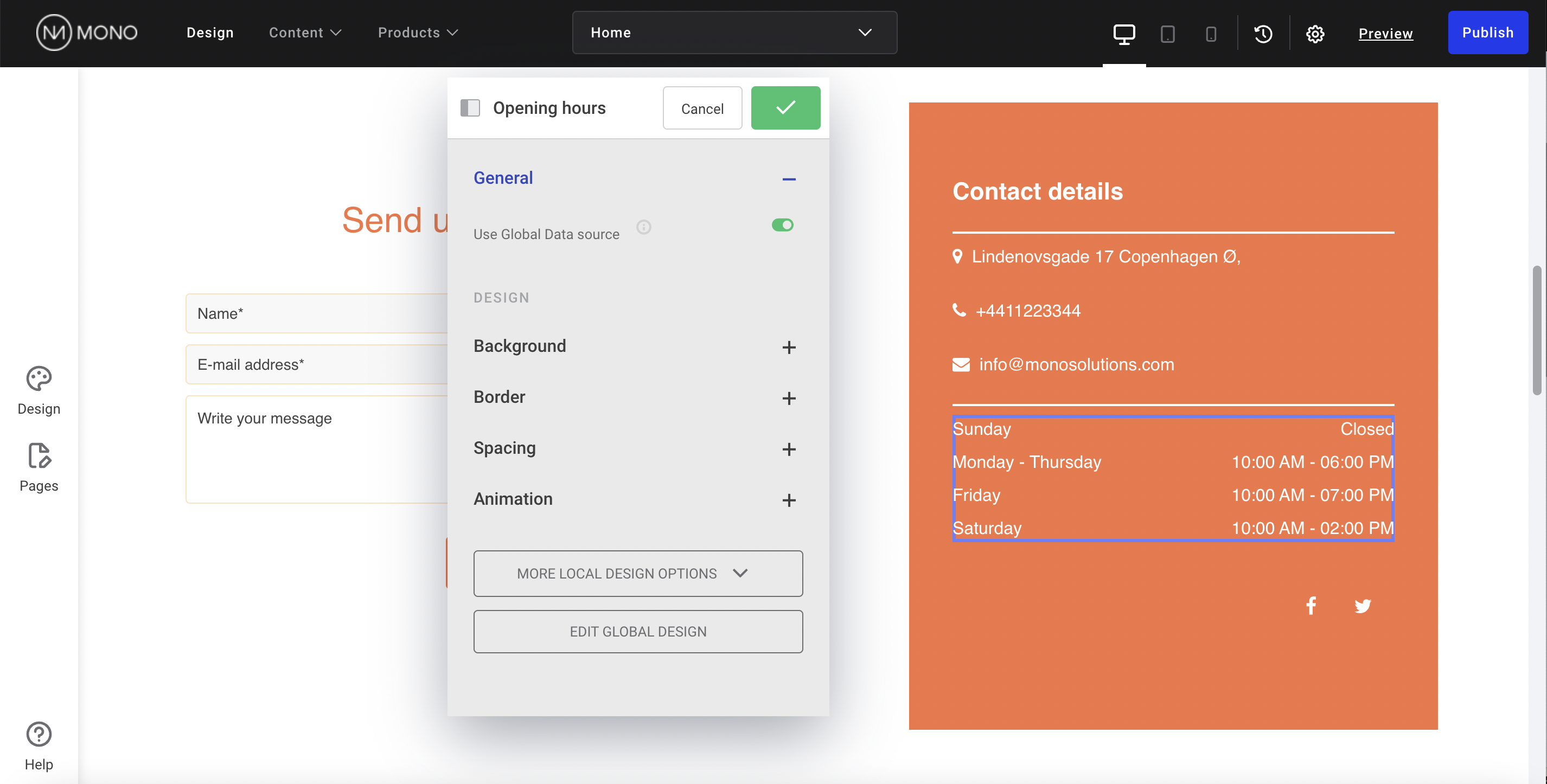 All modules within this category are by default connected to your Global Data which makes it easy to ensure you're applying information consistently throughout your website. You can add an Opening hours module by selecting Opening hours under the category Company information in the Add module overlay.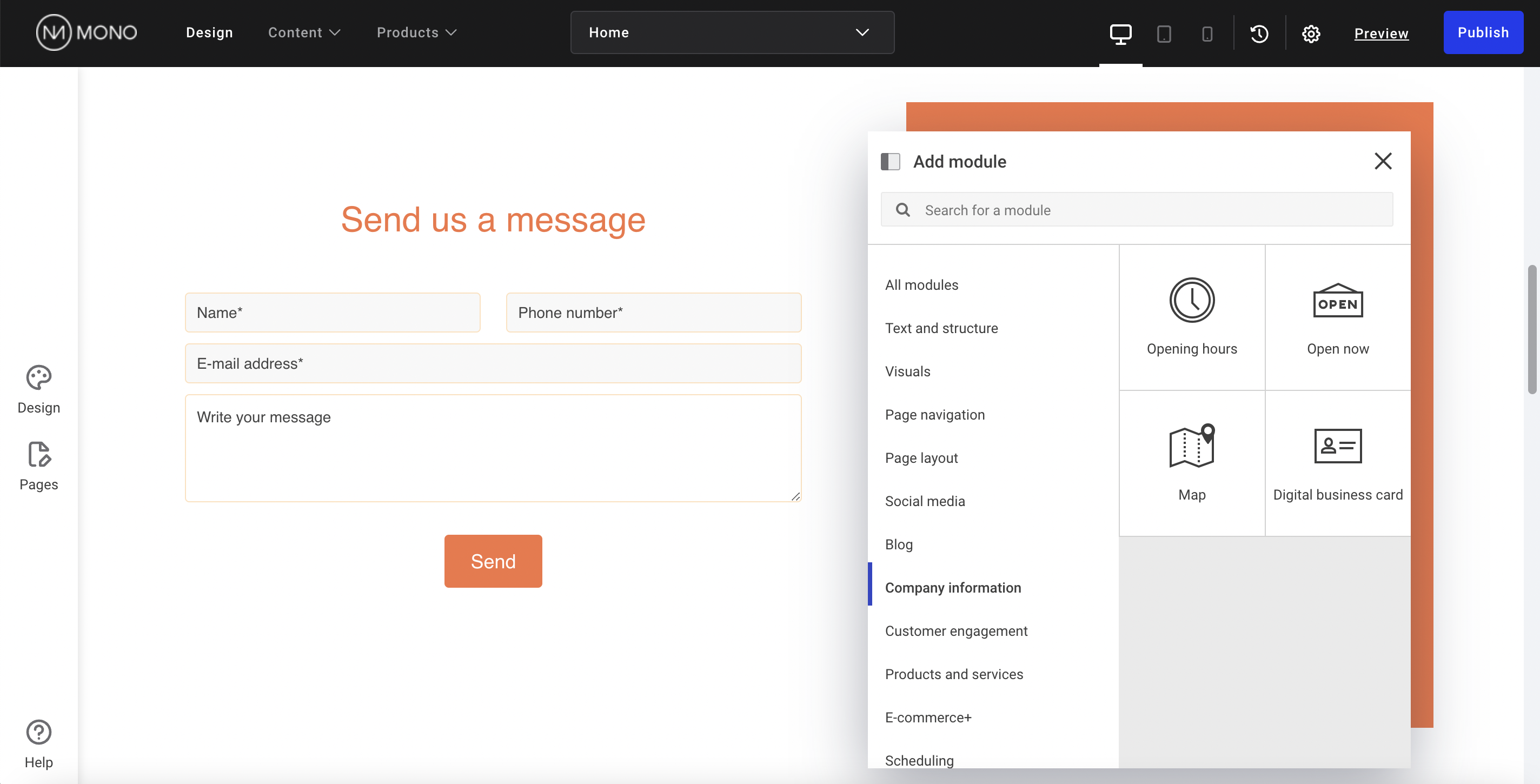 Use Global Data on your modules
It's highly recommended that you feed your business information from Global Data into these modules as it will ensure that your company information is consistently applied throughout your website. Updating your information centrally in Global Data means you don't have to go through your entire website each time you change a piece of information such as your opening hours - you only have to update the information once. Read more about Global Data here.
Hover the module and click on Content, Design or Settings on the dropdown to edit your Opening hours module.
Difference between Opening hours and Opening hours footer/header
The two opening hours modules are completely alike in terms of functionality but the Opening hours footer/header module is only available in the Add module menu from the footer or header of your website. Having two modules offers you the flexibility of defining two different Global Designs - one for the general Opening hours module and one for the Opening hours footer/header module.
Content
In the Content section you have the option to choose between fetching opening hours from Global Data or adding them directly in the module.
Fetch Global Data hours by toggling Use Global Data source.
Add content manually by clicking on each weekday's opening and closing hour date picker and select either specific times or the options All Day/Closed.
All day: when you're open all day.
Closed: when you're closed all day.
If you want to add interval opening hours, e.g. if you're closed at lunch, click on the plus icon next to the specific day you want to add them to. Another input area similar to your regular opening hours will appear below.


You might have special opening hours on specific holidays, events or celebrations. Enter a title for days with special opening hours (e.g. Black Friday, Easter, Summer holiday) and click + Add Day.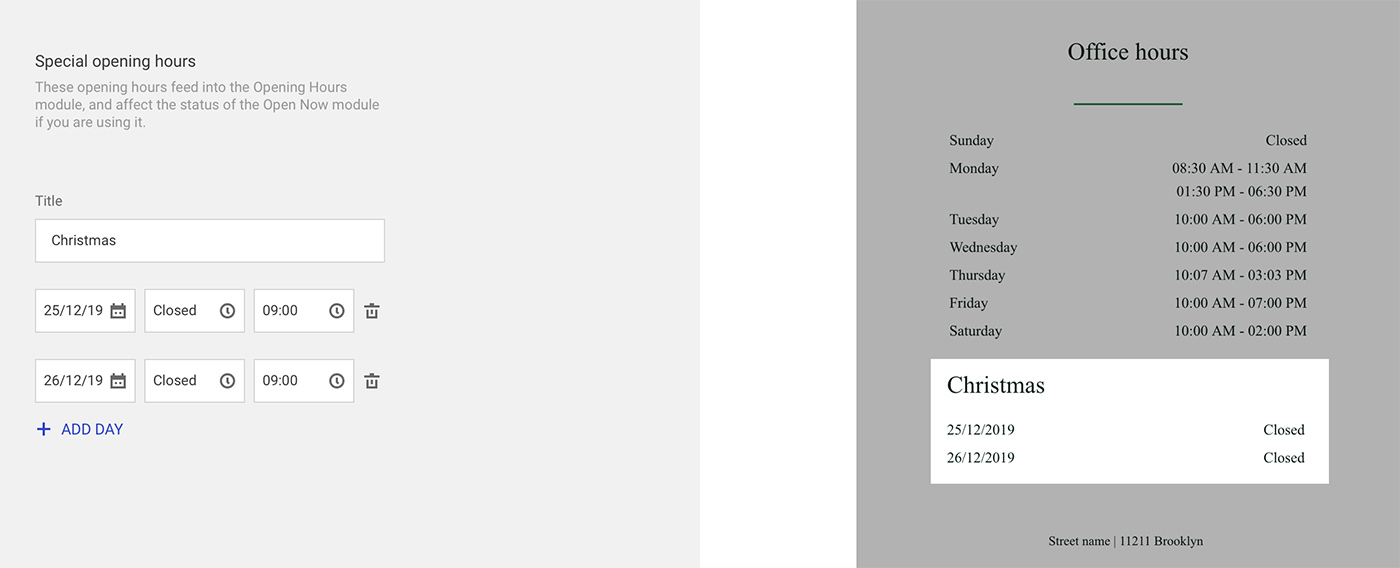 Design
The Design section is where you change the background, border and spacing of your opening hours module. Click More local design options for additional styling options. For more information on styling, read our dedicated guide here.
Settings
You have the following three options in Settings:
Combine similar opening hours: the Editor will automatically group the days with the same opening hours instead of individually displaying each day.
Title if closed: define the text displayed on the module when your business is closed all day (the Closed option described above)
Title if open all day: define the text displayed on the module when your business is open all day (the All day option described above)
Changing how opening hours are displayed
The Editor gives you the option to select what date and time format you prefer to display on your website, on a per-language basis. To change the date and time format display settings for a particular language on your website, head to Pages > Manage Pages > Edit language settings (the three dots next to a language name) > Formats. Define the way you display your opening hours by changing date format, weekday format, weekday start and 24-hour display. Read more here.