What is RAI?
The Reseller Administration Interface (RAI) is the control center where all your customer accounts and websites are managed. It allows you, as a Mono partner, to manage multiple customer websites, website templates, subscriptions and domains.
RAI is a web interface built "on top" of the Mono webservice (API). All major features are supported by the underlying Mono API, which means that you have the option of replacing the interface at any time without loosing any data or functionality.
Click here to read more about using the Mono API.
Once your reseller account has been created by Mono, you can access RAI with your login credentials through https://rai.monosolutions.com.

Main RAI features
The main RAI features include:
Create and manage customer accounts, websites and subscriptions
Create a library of templates to start new websites on
Register and manage domains directly within the interface
Manage Editor user rights, roles and permissions
Search for websites, domains and customers
Assign websites to different user roles within your organisation to optimize workflows and fulfillment processes
Track user actions - both in RAI and the Editor
Batch-create websites
Workflow overview
While fullfillment processes and practices vary from organization to organization, a typical workflow using the Mono platform looks something like this: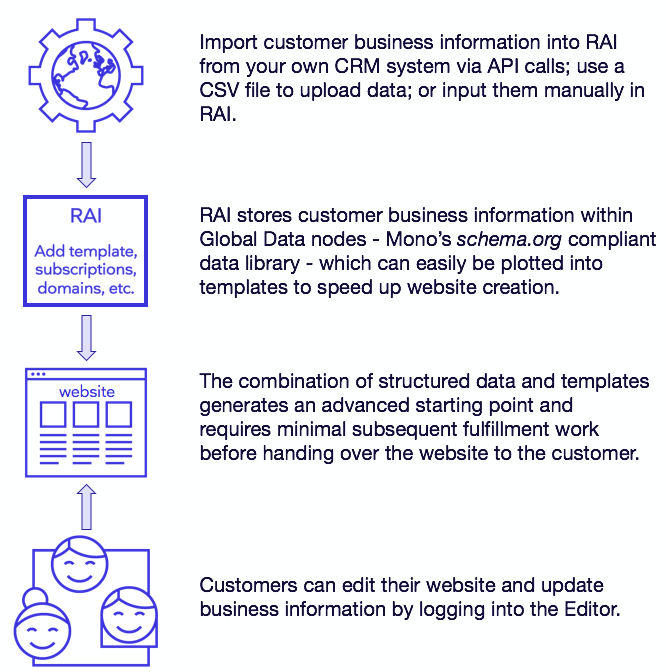 Good words to know
The first few times you're using RAI you might come across new terms and expressions. To help you quickly get familiar with the interface and all it's functions, we've compiled a list of basic terminology that you can refer to when needed.