Editor user roles are defined groups of limitations that give you the option to lock down or open up certain parts of the Editor and define which actions you want end users to be able to perform. This way, you can decide how much creative freedom you wish your end users to have. User roles can also be used when defining your product packages, for example by allowing premium users full access to all features while setting limitations for non-premium users.
The limitations only apply to users entering the Editor from an end user login page. If you access the Editor through RAI, the limitations do not apply.
Improved Interface or V5?
How you apply user roles and limitations differ depending on whether you are using the Improved Interface (ii) or the V5 Editor. If you are working with websites on the Improved Interface, follow the guidelines below. If you are working with the V5 Editor, please refer to this article for help on setting up user limitations.
How does it work?
User roles are fully customizable, meaning you can decide exactly what you want each role to be able to do and not do when logged into the Editor.
Mono has created a number of generic roles that you can easily apply to websites, but you are free to create your own and as many as you like.
Once you have created the user roles you need, they can be applied to individual websites through RAI. You can always switch a website to a different user role later on if you want to change end user access.
User roles are applied on a per-website basis. By default, any new websites you create are assigned the generic Simple editing mode user role, except for One-Click Sites.
Where do I create my own Editor user roles?
You create Editor user roles in RAI's Admin section > Defaults and Settings. Click the link II Specific Limitations on the right-side column.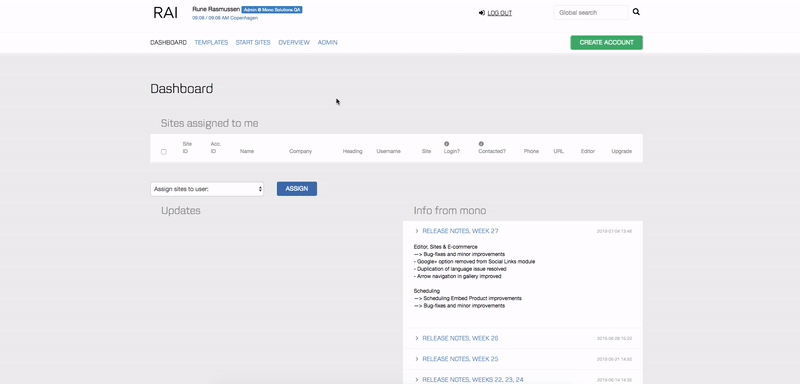 If you wish to read more about creating your own Editor user roles, click here.
Can't find the Admin section in RAI?
Only RAI users with the user role "Admin" can view and access the Admin section in RAI. Please contact an Admin user within your organization before you proceed.
How do I apply an Editor user role to an account/website?
You change the Editor user role for a website by clicking on the site ID of the website in question which will take you directly to the Sites tab on the Account page. Click the Edit button and find the setting User Role. The drop down list includes both generic (created by Mono) and local (created by you) Editor user roles. Select the desired user role from the list and click Save to apply it.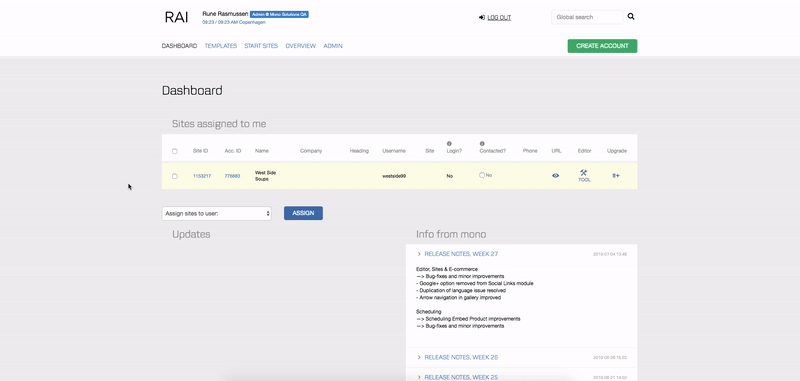 How do I test what the limitations look like?
From RAI, you can simulate what the limitations in the Editor look like for the end user before you hand over the website to them. On the Sites tab, click the arrow on the Open editor button and select Open editor as user.